Why I Love Living in Penang…the beginning!
When my husband Beven first suggested we consider living in Penang, I have to admit, I needed to jump onto Google maps. I grew up in the UK and it's not exactly somewhere that's on people's bucket lists nor had I ever seen a package holiday advertised for there…cos, that's how we knew where everything was right, if it's not in a Travel Agent's window…!!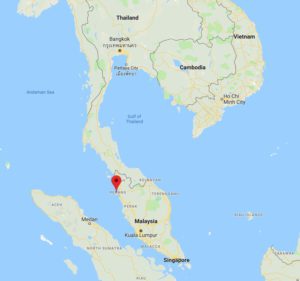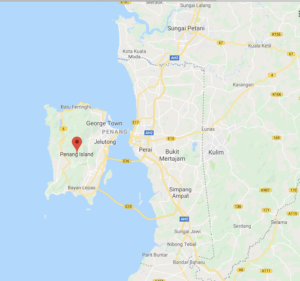 We were living in Melbourne at the time. Beven was working as a guest entertainer on ships and I was working for a cruise line. We both travelled extensively, Beven more so than me, but I was working stupidly long hours and far too many weekends at expos, and he would be on ships for 5-12 days at a time, so we were seeing each other barely a few days each month. Not ideal when I'd just left my home of ten years in Sydney to spend more time with him.
So on a rare night home alone, at the end of expo season where I had worked for about 5 weeks straight without a day off and feeling sick and exhausted, when Beven asked me 'how much do you really love your job' I was pretty quick with my answer…!
We worked out not only how much time we could be spending together, but also that we could get ourselves into a much better place financially, rather than hemorrhaging money in Melbourne as we were, on a home we barely lived in. Beven's cousin Jeff had been stationed in Butterworth for several years whilst in the RAAF and absolutely loved living in Penang with his family, so Beven knew it fairly well through many visits, so we jumped on the phone to Jeff to get his opinion on living there. We also did research by trawling through the many YouTube videos of both vloggers and ex pats to get an idea of what it was like, and the funny thing was, the only negative we got from the hundreds of videos was 'the public toilets aren't very nice' and an English girl said she 'missed Mr Kiplings cake slices'! Not a bad review huh?
Legalities for Living in Penang
The next step was of course to look into visas and the legalities of living in Penang. This is a topic for a whole other blog, so I'll just leave this link here for you to check out the basics and I may cover it at a later date. Essentially, if you plan to stay for more than 3 months at a time (no visa required for most citizens for less than 3 months, but check with your embassy) you will need to obtain an MM2H (Malaysia My Second Home), details here: http://www.mm2h.gov.my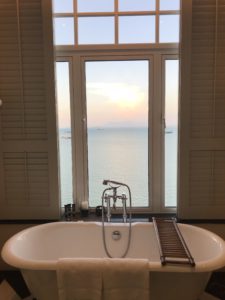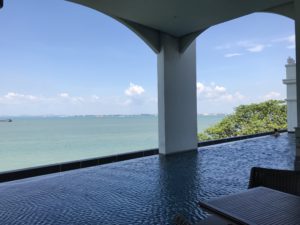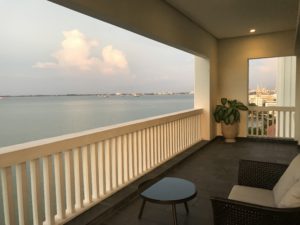 Would I Enjoy Living in Penang? Time to Visit…
Of course, the obvious next stage was to go visit. We decided to do this for my 40th birthday, so we booked a week staying at 3 different places so we could get a feel for various areas, splashing out at the fabulous E&O for my actual birthday! We did as many of the key touristy things as we could in the week, with our last couple of days spent looking at condos and securing our new home.
Ok, so enough about our life story, let's get down to exactly why I love living in Penang. Oh, and please note that we live on Penang Island, so my recommendations are based there, even though most of Penang is actually on the mainland.
Community
One thing that was key for us was the community vibe. With Beven being away for his job as often as he was, I needed to make friends and feel safe and happy living in Penang, particularly as a female on my own. I found a few 'Expats in Penang' and 'Women in Penang' Facebook pages and joined them all. Quickly we discovered what a huge community there was and how friendly and helpful people were. We went to a coffee morning and immediately met people who have become fabulous friends, helping us with our relocation and shipments etc. I think as everyone has been in the same situation, they are willing to share their knowledge and welcome you into all groups as they understand the challenges you will have. If you are ever feeling lonely or homesick, there's always someone around for a coffee or to join you for a trip to M&S!
Enjoying this post? Check out How To Make Your Home Fund Your Travels
Activities
There really is something for everyone in Penang. Whatever sport you enjoy, there will be a group for it, if you're into arts and crafts, there's a group for it, if you want to learn Mahjong, there are groups to learn with. It really is such an eclectic place.
Most of the new condo buildings have their own pools and gyms, some also with table tennis or even tennis courts. There are sports centres you can find these too.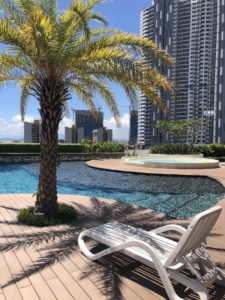 If you love water sports you can find this at Batu Ferringhi very easily, although I can't confirm their safety or how insurance works, I hear mixed reviews so we personally have decided to steer clear.
Beven tells me the golf course over on the mainland is great, and there are lots of golf fanatics within the expat community who can join you or advise you.
The Penang Golf Course, the only Championship 18-hole course on Penang Island.
The Penang Swimming Club – the best private member-only club in Penang. Get an ex-pat member to introduce you!
The Penang Sports Club – located in the heart of Georgetown, this club offers Tennis, Badminton, Snooker, a gym, a pool and even a library
Dining
Penang is not only notorious for its food but also awarded the best food nation by Lonely Planet – a key factor for why we love living in Penang. The best way to sample this is to go to a local food court ('makan'), a market or visit one of the many food stands along Chulia Street or Siam Street at night. Their national dish is  a flat noodle dish with prawns, egg and a spicy sauce. You will find this just about anywhere and will cost you about AU$2-6, depending on where you go. Due to the Indian population, you will also find some amazing curries. Personally, we love the Sri Ananda (52 Penang St, Georgetown), restaurants with a massive menu and everything we have tried is delicious. If you want something a little more Western, you can find this in most shopping mall food courts, and McDonalds, KFCs and Starbucks are found everywhere (but seriously, why would you??)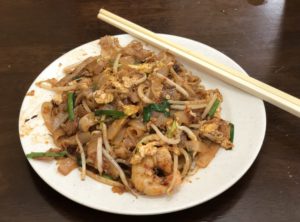 If you are craving somewhere that feels a little Western but still serves Malaysian style food, Viva Victoria in Georgetown is great. They do an amazing Indian Pizza and mushroom 'cappuccino' soup which is not to be missed. Tell the owners Parmer and Tina that Wendy & Beven sent you and you'll be well looked after!
If you are an early bird and fancy a local breakfast, head to Tanjung Bungah wet market before 10am and try some roti canai, shu mai or prawn dumplings (literally type Tanjung Bungah market into Grab and it will take you there, it's actually located on an unnamed road).
For great curry puffs and peanut twirls, check out the baker at the entrance of Old City Food Court (96-G-1, Prima Tanjung, Jalan Fettes, Tanjung Tokong) and if you want a simple meal of chicken and rice for about $2, go to Fatty Loh, 21 Jalan Fettes.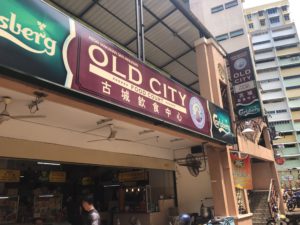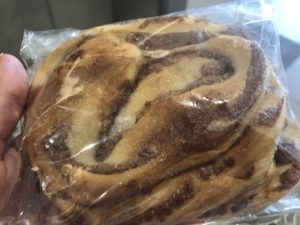 If you want a delicious black pepper squid or lobster thermadore at the cheapest price you've probably ever seen, head out past Batu Ferringhi to Fishing Village Seafood (765, Jalan Teluk Awak, Teluk Bahang). This family-run restaurant has been around for about 30 years and if you can get past the pink and orange plastic plates and constant mewing of local cats, you will definitely see why we love this place and return as often as possible.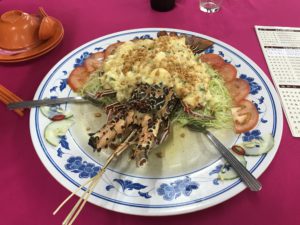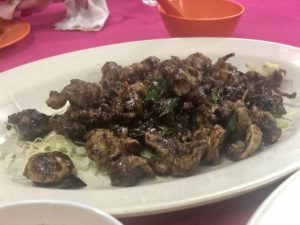 Look out for my upcoming blog on the best Char Keoy Teow's in Penang. Beven and I visited some of the best known ones so we can advise you of the quality of each. It was a tough job, but hey, you're welcome.
Recommended Reading: Personal Safety Tips For Women
Shopping
If you're looking for touristy shopping to take home to your Aunty Enid, items such as Penang logo bags, mugs, tshirts or butt scratchers can be found at the Batu Ferringhi Night markets. These are on every night and start after the sun sets. Feel free to barter here, you can walk away paying about a third of the original asking price on some items if you play the game well (however, please do remember that these people are living on much less money than you probably are, so play fair, they still have bills to pay). We usually get a Grab to 'Starbucks' Batu Ferringhi and walk down the strip from there.
For more upmarket, fashion or homeware goods, head to one of the bigger malls. The best ones would be Gurney Plaza, Gurney Paragon or Queensbay Mall. You will find all the well-known brands here, including some English staples such as Marks and Spencers, Top Shop, Dorothy Perkins, Debenhams and Jo Malone.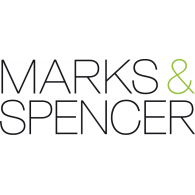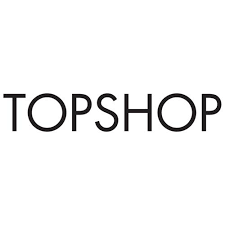 If you need shoes or electrical goods, head to Prangin Mall on Prangin Road, Georgetown. A random mix I know, but they are the dominating types of stores with some random clothes and bag shops interspersed!
For groceries, the main supermarkets are Tesco and Cold Storage. The main Tesco is in Tanjung Tokong and they do home delivery after you have set up membership in store. Cold Storage can be found in Gurney Plaza or Island Plaza and they also do home delivery. Both have a good selection of British and Australian imported items, so you don't have to give up your Vegemite or English Cadburys when you move to Penang. Happy days.
Attractions
There is no shortage of things to do if you want to be a tourist in Penang, or show off your backyard to your barrage of 'not-all-that-well-known-but-suddenly-your-best-friends' visitors who are sure to want to stay with you. This is definitely something I love about living in Penang.
The first thing you may want to consider before you create a bumper packed schedule is how well your visitors cope with the heat. Whilst we may have become quite immune to the incessant heat, for new people it can be really quite overwhelming.
Anyway, that aside, these are some fun things to do:
1. Penang Hill Fenicular Railway – apparently the steepest tunnel track in the world. Head up during a clear day for stunning views across the island or at sunset for a beautiful view with ever-changing colours. If you go during school holidays, expect long queues.
2. Kek Lok Si Temple – an ostentatious 19th Century Buddhist Temple. If you have the stamina to climb right to the top, you will be rewarded with gorgeous gardens and fabulous views.

3. Little India – an area covering Queen St, Chulia St and Market St, in the heart of Georgetown. I absolutely love this area, it has such a great vibe, always Indian music playing and the bright colours and smells of spices are unmissable.
4. Street Art of Penang – even having done the walk of the key roads to search for the various pieces of art, I still come across new ones randomly each time I'm home! The art was created to improve tourism to Penang after it had been given UNESCO Heritage status and visitor numbers were increasing.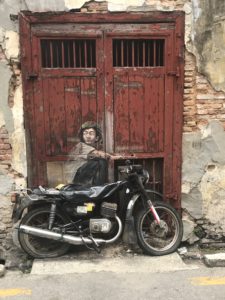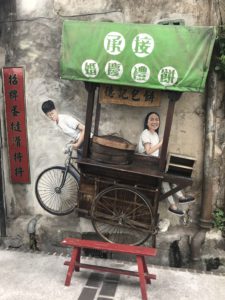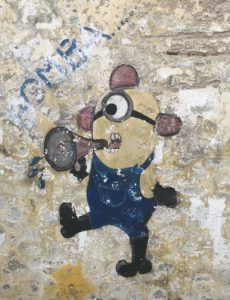 5. Clan of Jetties – a unique settlement created by the Chinese in 19th century. Take a stroll down the jetties to get an insight to how the locals live, and shop in some of the little quaint stalls.
6. Entopia Butterfly Farm – a fabulous place filled with butterflies, insects and lots of fun activities for kids to enjoy
7. 3D museum This trick art museum is great for kids and big kids alike. Choose one of many 3D backdrops to create your next crazy Insta post with. Tickets from AU$6.50 Adults, AU$5 for kids.
8. Escape theme park – a combination adventure park with water park for a full day of fun. Open Tuesday – Sunday, 10pm – 6pm.
9. Heritage Trishaw tour of Georgetown – If you want to get around to all the street art and maybe the jetties and get a good feel for this fabulous city, I'd highly recommend a Trishaw. They can seat 2 people in a little carriage and the peddler is behind you, pointing out all the sights. It's a safe and fun way to tick off a lot of the tourist areas! Find Trishaw's in most parts of the city, but in particular on Jalan Penang, the E&O end.
10. The Top, Komtar Tower – basically a whole theme park located at the top of Penang's tallest tower. These include a 7D motion centre, Jurassic Research Centre, Musical Carousel, Dino Gym, Jelly Bump bumper cars, Skywalk, Boutique Aquarium, Magic Mirror Maze, Dance-Oki…and more! Ticket price approx AU$35 Adults and AU$20 for kids.
11. Monkeys at Botanical Gardens – When we first visited the gardens I was keeping everything crossed that we would be lucky enough to get a sighting. What I didn't realise is that the monkeys are absolutely everywhere! I've never seen so many in a public area, and they're not scared of you! The park is beautiful, you can pay for a buggy tour if you wish, we tend to just walk, but it is very hot with little shade, so don't go in the middle of the day.
12. Cheong Fatt Tze's Blue Mansion, – one of the most impressive architectural buildings in Penang, this iconic hotel was built to house the descendants of this Chinese man which exuded elegance and majesty. After he passed away, it was his wish to maintain it, but after the last of his family also passed, it fell into disrepair. Fortunately it has since been carefully restored, using only original techniques and recycled materials in order to open its doors again to be admired. You can stay in the hotel, dine in the restaurant or take one of the daily tours.
My Top 5 Favourite Things About Penang
Ok, so I've listed many things you can do when you're in Penang, but here are my favourite things to do when I'm home.
1. Watch the sun set at Bora Bora or Frandys in Batu Ferringhi over a cold drink (note that I say drink, not food…) We would often go to Fishing Village Seafood for black pepper squid or lobster thermadore after, as noted above in Dining.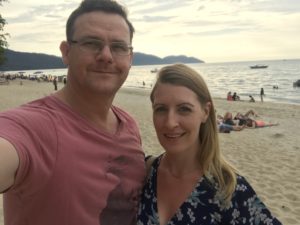 2. High Tea at the E&O. I love the elegance of this hotel and their High Tea is as exquisite as you would expect! Phone in advance for reservations, it's open daily but gets booked up. 10, Lebuh Farquhar, George Town +60 4-222 2000 
3. After having lunch at Sri Ananda in Little India, stroll down Chulia Street, stopping at any bar or cafe which takes our fancy (there are new ones opening all the time). Mugshot, Rockerfellas and Chulia Court are some of our favourites.
4. Dinner at Jaya (99 Jalan Penang) for a cheap but delicious meal (finished with Roti tissue – like a thin crepe with bright coloured condensed milk, omg, so delicious!), then cross over to Soho Free House for drinks and pool or Foosball.
5. Listening to live music at The Canteen (walk through from China House), check out their website for details but music starts around 9pm most nights. They serve cakes from China House too, which has the most insane selection you will probably ever see in your life! You may want to check which have been made fresh that day however…
My 5 Least Favourite Things About Penang
1. Public toilets – which are pretty nasty I'll be honest. Make sure you always have tissues with you and hand sanitiser or wet wipes. The floor will likely be wet and it will probably be smelly. Ensure you pee before you leave home!
2. Umm…I can't get Mr Kipling cakes slices…?!
3.
4.
5.
There really isn't anything I dislike about living in Penang. It's such a beautiful, multicultural place with really friendly people, all of whom speak great English and are always willing to help. It's very safe, I never feel like anyone is trying to rip me off or get in my face to sell me crap I don't want – well, aside from at the night markets maybe!
It's a convenient location to explore Asia from, being only an hour flight from Bangkok and Singapore, you can even drive into Thailand easily. Flights are crazy cheap too, like AU$30 each way.
Bills
On the subject of money, our water bill is AU$5 per month…hardly worth the effort to go pay it! AU$30 credit on our prepaid phone cards lasts 3 months, and getting around using Grab cars will blow your mind at how little it costs…you will definitely live a cheap life in Penang!
Want to know more?
My beautiful friend Kirsten is an expat, from Chicago, who has lived in Penang with her husband for seven years now. There's very little about Penang she can't tell you, and lucky for us, she's put that wealth of knowledge into a fabulous blog, called Sand in my Curls. Check it out!
That's a Wrap!
If you have any specific questions, please feel free to shoot, I'd love to help. Also, if you have anything you'd like to add with regard to things you love, please comment below, and of course, if you've found this interesting, please share away!
Thanks!
Wendy A x
Pin for later: