There are many cruise ports of Iceland, but not all of them are able to take large cruise ships. I'll be writing about the ports we visited on our itinerary, which started in Bergen, Norway. These are Seydisfjordur, Akureyri, Isafjordur and Reykjavik.
I know most people are keen to know when the best time to travel is, so I'll also mention that we arrived at the beginning of June which is the start of their summer. However, summer to Icelanders means a high of about 9 degrees, so you probably won't be needing your sunscreen. We did get lucky though and some days were around 14, which is basically a heat wave for them, but you do need to factor in the wind chill (there was still a decent amount of snow on the mountains), so layers are definitely the way to go.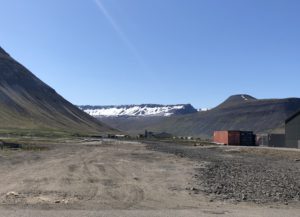 Coming from the Norwegian Fjords, one thing which strikes you first when visiting the cruise ports of Iceland is the lack of trees. The harsh climate makes it hard for them to grow, so all their wood is imported – even their houses come as flat packs and are shipped over. The land is barren, green mountains mixed with gray rubble underfoot. NASA trains their astronauts here as it's the closest landscape to the Moon!

You may not think of swimming as your first thing to do in Iceland, but it's actually a very popular activity for locals, utilising the naturally occurring geothermal heat to create these bathing havens. There is one pool per 2000 residents. The Blue Lagoon in Reykjavik is the most notable, being one of the world's 25 natural wonders.
You may also notice that there are lots of cats in Iceland – one per every ten residents. The reason for this is likely to be that they had a ban on dogs between 1924-1984, after discovering they were carriers of a type of tape-worm which could be passed to humans!
Seydisfjordur (population 665)
Due to avoiding a bad storm, we actually arrived in Seydisfjordur a day earlier than scheduled on our first visit. The weather was terrible, freezing cold and raining, and knowing we would be back the following week we actually decided not to get off the ship. The second visit couldn't have been more different. The sun was out, clear blue skies and it was relatively warm. It's a small town where you can easily stroll in from the port within about 5 minutes. Before you even leave the ship you are greeted with views of a magnificent waterfall, which is just the start of the magic this town has to offer.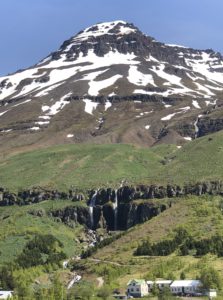 You walk over a bridge, past a beautiful lake (where the kids were all paddling, enjoying the unusual warmth) and into the heart of the town consisting of bright coloured homes. It actually feels a bit like a movie set, you can't believe a real place to be so picture-perfect!
The beautiful church sits at the top of the main street and is highlighted by a rainbow path which the residents painted in the middle of the night after being refused council assistance to paint the street. The result is like something from The Wizard of Oz!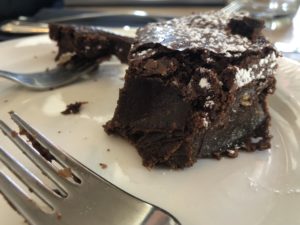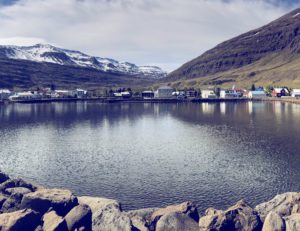 If you are a lover of Brownies, as I am, I highly recommend you visit Hotel Aldan. It's at the opposite end of the street and has outdoor seating and a great gastro-pub-style menu. We had hot chocolates and shared the brownie which was delicious. They also have very fast internet – an important factor for us. The staff were all so friendly too, even lending us a local power adapter for my husband's laptop,
You don't need too long here, it's a small place, so I'd recommend taking a shore excursion for half a day to make the most of your time, but absolutely do go into the town, you won't be disappointed.
Akureyri (population 18,000)
Located in the north-eastern part of Iceland and on one of the longest fjords, Akureyri is Iceland's second largest town after Reykjavik and recognised as the unofficial capital of North Iceland. The first visit to Akureyri we barely got 20m off the ship and nearly turned back, it was so bitterly cold! We literally felt like our faces were stinging, but we continued on into the town and into the first cafe we could find to thaw out with a hot chocolate! At first glance, this port isn't as picturesque as the others, but it has some quirks to it, such as the red traffic lights which are all heart-shaped, installed after the financial crash in 2008 to bring a bit of happiness and positivity into the lives of the locals. There are various photo opportunities with Trolls around and if you hike up the steps of the Lutheran Church you will be greeted with fabulous views of the fjords.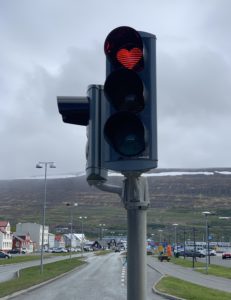 There are some shops in the town but no big malls. There's a bookshop with a cafe, a couple of pharmacies and some small clothing shops, plus the usual tourist shops selling the exact same things in them all!
The walk around the waterfront will greet you with beautiful views and big pots of bright flowers. How long you can stand the freezing air coming off the water is up to you…!
I'd recommend taking a tour for this port, your cruise may offer an inclusive tour which takes guests around the town and up to the Botanical Gardens as well as optional tours further afield. You'll be able to cover much more ground in a more pleasant way – keeping warm!
Isafjordur (population 2,571)
This port is also very easy to get into town from, it's just a short walk, there are no buses. Right next to the port is a museum you can detour through, showing how they dry cod by hanging it and view some traditional buildings. This is also where the kayak tours depart from and is a good spot to take some photos of the fjord with the spectacular snow-capped mountains towering over.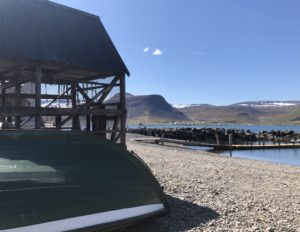 You can walk through the town to see the bright coloured houses and discover delicious bakeries and local
stores. There is also a Netto supermarket if you need essentials, but prices are similar to that of Norway, so you don't want to be buying anything you don't really need.
I found this town to be quite interesting.. Some homes are well looked after and incredibly quaint and picturesque, and then you find yourself in another area which is completely run-down and feels a little eerie. And this is all within 5 minutes walking distance. If you continue through the main street you will come to a stone wall which looks over a mini 'beach' onto the other side of the fjord. Despite the great views, this was a bit of a ghost town, and it made us wonder if locals all left this town during the day for work? It did make me smile to see a travel agency closed with a sign on the door saying 'closed due to good weather'.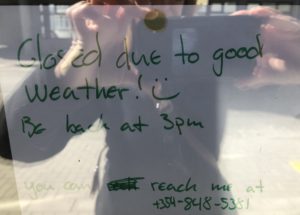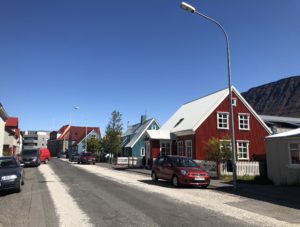 Whilst it's worth taking a stroll to check out these sights, I would definitely recommend you take an excursion for a half day at least as there isn't much to do in Isafjordur.
Reykjavik (Population 128,793)
Reykjavik is the northern-most capital city in the world and translates to 'Smokey Bay'. At less than 150k residents it's barely a city, but it offers everything you need with regard to shopping and activities. It is noted to be one of the most clean, green and safe cities in the world.
You will need to get a shuttle bus into the town from the cruise port, firstly due to security and secondly because it would probably take about 30-40 minutes to walk. The buses drop you off at the Harpa Concert Hall, a huge steel and coloured glass building you can't miss, and it's a few minutes walk into the heart of the city from here. The Old Harbour can be reached from behind the Harpa Hall.
We were lucky to have great weather when we arrived, the sun was shining and it was actually warm! Even the ducks were playing in the water installations! You will find many of your high-street name stores in this area, such as H&M and DJI mixed in with local designers and adventure wear. If you are feeling the cold, this is the place to buy the warmest coats!
The city has a really lovely vibe to it – unless it was just the unusually warm weather! There are several bars and restaurants with outdoor seating which were all buzzing with locals and tourists alike. You may want to pass over the local delicacies such as sour ram's testicles and boiled sheep heads, but they do serve some fabulous food, mostly meat and fish dishes. Soup served in bread cobs are very popular here and although we didn't end up trying it, they all smelt absolutely delicious!
Many of the bars are very modern, funky, have a theme or just look incredibly inviting. We stumbled across a pub called the 'Bastard Brew Pub', partly because of the beers they served and partly because of the name! It was a really great place, with indoor and outdoor seating plus a huge TV showing a football game in a separate area which was being enjoyed. We tucked ourselves into a cosy corner and ordered a fabulous beef brisket taco which was served by really lovely and welcoming staff – would highly recommend…if you're not easily offended by some of the decor!
They like to party in Reykjavik which I guess is why it's become a popular destination for Hen/Bucks weekends. During the week most places are open until 1am and on weekends they stay open till around 6am, some are even 24hr.
This is a very walkable city and you will find some really lovely streets with views of the ocean at the end, or find a quirky piece of art or cobbled courtyard. One of the most iconic attractions is the Hallgrimskirkja Parish Church which towers over the city at 73m tall. Built in 1986 to represent the basalt lava columns of Iceland's landscape, visitors can take an elevator up to the top for some spectacular views of the city.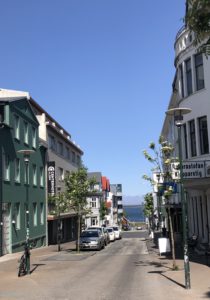 As previously mentioned, another 'must-see' from Reykjavik is the Blue Lagoon. You will need to book a tour for this, or there are car hire companies located at the port if you wanted to drive yourself. The Golden Circle is another popular tour and Iceland is also known for it's whales, so whale watching tours are easily found in each of the ports.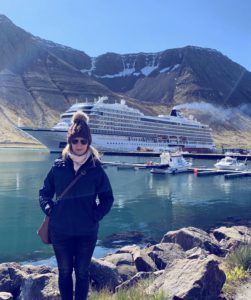 There is much more that can be done from each of these ports of course, so my disclaimer here is that we are only visiting each cruise port of Iceland for a couple of hours each time…we are not able to venture too far. We will be back to Iceland again later on in this contract, so as we do more, I'll update this post. In the meantime, if you have anything you can recommend, please do so in the comments below, I'd love to hear from you!
Thanks for reading!
Wendy A