So, I thought I'd change up my weekly posts a little to bring you 30 fun facts about cruising. I could just list a whole heap of stats on ship size/length/weight etc, which, whilst still pretty amazing, is possibly not quite as interesting as some of the more random facts I've pulled together below. I hope you enjoy them and feel free to let me know of any others!
1. Every Viking Ocean Cruises library contains 1003 books
The Viking Vocalists are responsible for counting and sorting them at the end of each cruise so they are returned to the correct area of the ship for the next guests to enjoy.
2. The first female captain was Swedish born Karin Stahre Janson.
She became Captain of Royal Caribbean's Monarch of the Seas in 2007. There are now two more female captains including Captain Kate McCue (American) who works for Celebrity Cruises and Virgin Voyages has just announced its first Captain of the Scarlet Lady will be Wendy Williams (Canadian).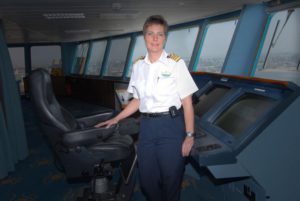 3. Six cruise lines own a private island
Royal Caribbean International – CocoCay and Labadee
Disney Cruise Lines – Castaway Cay
Norwegian Cruise Lines – Great Stirrup Cay and Havest Caye
Holland America Line – Half Moon Cay
MSC – Ocean Cay (opening later this year)
Princess Cruises – Princess Cays
4. The busiest home port in the world is Port of Miami, Florida
With over 4,980,490 passengers passing through each year, this port also provides 176,000 jobs and is a large contributor to the city's economy.

5. The anchor of a cruise ship can weigh over 15 tonnes
When the largest ship in the world weighs 228,081 tonnes, its gonna need a big anchor…!

6. Captain Kate McCue of Celebrity Cruises travels with her cat
He's an Elf Sphynx, called Bug Naked and is a bit of an Instagram phenomenon!

7. Royal Caribbean's Freedom Class ships have a Ben & Jerrys 'Sweet'
Located above the Ben & Jerrys kiosk on the Promenade, cabin #6305, and with an obstructed view of 2 cows, these guests receive the same benefits of regular suite guests and also receive free ice-cream daily. Yum.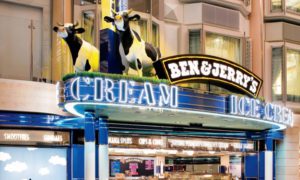 8. Every cruise ship has a morgue
Talking of ice-cream…the crew know its been a bad cruise when they are offered free ice-cream as it means the morgue is full and they need space in the freezer (true story). Approximately 200 guests die per year on cruises, mostly due to age.
9. Almost every cruise ship has a jail cell
Sadly, some people seem to think it's ok to get drunk and act up on ships like they're completely lawless…Wrong.
Naughty guests will be detained in 'the brig' until the ship reaches a port where they can be handed over to the local authorities.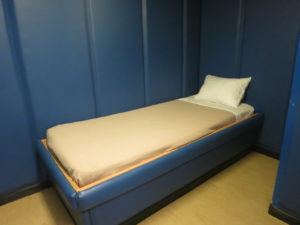 10. Many cruise lines don't have a deck 13 as sailors believe it to be unlucky
Although apparently the Norwegians don't believe in superstition and often sent out 13 sailors for exploration adventures (as advised by my tour guide in Oslo this morning).

---
Want to know more about Cruising? Check out my post on First Time Cruise Checklist 
---
11. Did you know that when a Disney ship sounds its horn, it plays the first 7 notes of a Disney song?
"When you wish upon a star…" (yep, that's gonna stick in your head!)

12. The largest ship in the world is Royal Caribbean's Symphony of the Seas
She beats her sister Harmony of the Seas by 1,000 tonnes and has 24 swimming pools, 22 dining venues, over 10,000 plants and 50 trees.
13. A replica of Titanic is being built
Due to sail in 2022 (after many delays already), she will be called Titanic 2 and is the project of Australian millionaire Clive Palmer (I can hear groans from every Australian from here…!).

14.There is a residential cruise ship called The World
It is home to 165 guests (although many of the apartments are now Corporate owned) and sails to all corners of the globe.
15. Cruise ships are constructed like Lego
Cabins are built in separate warehouses and transported to the builders yard to be slotted in to place. You can watch the building of Anthem of the Seas here.
16. Royal Caribbean has created Virtual Balconies for inside cabins
You want the view but don't have the budget? This is a great solution. The images are real-time from the mast's camera – confirmed by one of my agents who freaked out when a bird flew into the camera…
17. 22% of cruise guests travel with Carnival Cruises
Carnival is currently the largest cruise line in the world, based on passengers carried annually and number of vessels in the fleet. Royal Caribbean is the second largest.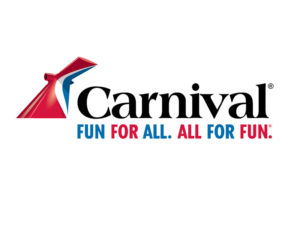 18. P&O Cruises (UK) are the oldest cruise line
Traced back to 1837 as a mail delivery shipping service, they carried their first passengers in 1844 from Southampton to Athens, Gibraltar and Malta, as they still do today.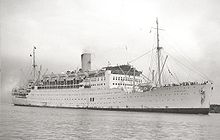 19. More than 300 couples get married on Celebrity Cruises each year
This actually surprises me as getting their weddings department to reply to any calls or emails is nothing short of a miracle (I say from experience), but I salute those who have done it successfully…
20. 60,480 slices of bacon are served for breakfast on Carnival Conquest per week
Not completely surprising when the majority of their guests are American. I wonder how many bottles of maple syrup they go through…?
 
---
Thank you to FeedSpot for voting me in their Top 75 Cruise Bloggers to follow in 2019! 
---
21. Four Cunard ships have been christened by Queen Elizabeth II
Queen Elizabeth, Queen Mary, Caronia and of course, Queen Elizabeth II

22. Prince Charles was the first civilian passenger aboard the historic QEII
Her maiden voyage was from Southampton to New York on 2 May 1969, however, Prince Charles was onboard for the first voyage from the shipyard in Clydebank to dry dock in Greenwich.
23. The World's largest Union Jack flag, painted on P&O Britannia's hull, used 420 litres of paint
320 litres of red, 100 litres of blue…and another 160 litres for the P&O logo!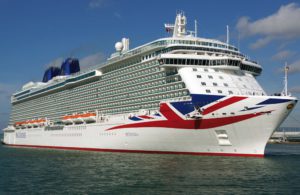 24. It's generally acknowledged that a 'boat' becomes a 'ship' when its over 20m/60ft
It's also commonly explained as 'you can put a boat on a ship, but you can't put a ship on a boat'.

25. Viking Cruises gained a Guiness World Record for christening 14 new ships in 24 hours
This broke its record of naming 8 vessels simultaneously the previous year.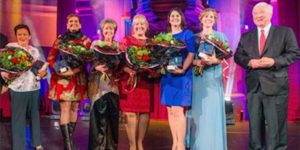 26. It took 3 million man hours to build the Royal Princess
This involved 37,000 tonnes of steel, 4,000km of electrical cable and 200 tonnes of marble.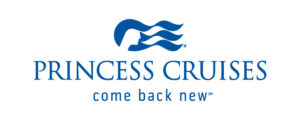 27. 5,700 uniforms are pressed daily on each Viking Ocean Cruise ship
Every ship also has a tailor on board to mend/alter uniforms and stage costumes.

28. Approximately 28.5 million people cruised in 2018
Which is a 7% increase from 2017, also broken down as 49.9% being American, 25.1% European, 20% Asia-Pacific and 3.3% South American.

29. Superstition has it that its unlucky to bring fresh flowers on board a ship.
Apparently its also unlucky to bring bananas on board, settting sail on a Friday and saying 'pig' or 'rabbit'.

30. The longest continuous cruise will be Viking Sun's 245 day Ultimate World Cruise
Round-trip departing Greenwich 31 August 2019 and stopping at 113 ports and 59 countries.
As the crazy cruise addict that I am, and have been for many years now, I found it fun recalling some of these facts and researching others. It's a fascinating industry, growing so fast in passenger numbers and technology, I'm sure all the noted records will be broken in the not to distant future. I hope you have enjoyed reading this post, please do let me know of any other fun facts about cruising, I'd love to hear them!
Thanks for reading, see you next week…
Wendy A