There's a reason so many people want to cruise the Baltics. To be able to visit eleven ports and eight countries in two weeks is quite special, and when they are located in Northern Europe, not the cheapest of areas to travel around, why not do it by cruise ship? Read on to discover the must-see cities you've probably never heard of before, but are sure to become your new favourites!
Where are the Baltics?
The collection of countries meeting the Baltic Sea in North-Eastern Europe are often referred to as the Baltics. These countries are Denmark, Estonia, Latvia, Finland, Germany, Lithuania, Poland, Russia and Sweden. Not to be confused with the 'Baltic States' which specifically refer to Latvia, Lithuania and Estonia.
Most cruise lines have a Baltic itinerary which covers most of the countries listed above, with Latvia and Lithuania usually excluded. They generally start in Stockholm or Bergen and you can choose the direction you wish to travel.
Why am I an expert?
I've been lucky enough to cruise this region many times, over two 'seasons'  (mixed in with Iceland and the British Isles). This has allowed me to really explore every port, discovering something new with each visit.
I've done several excursions and I also love to just wander and get lost (something I'm really good at, as I have zero sense of direction – thank god for google maps!). This has allowed me to tell you the best things to do and see when you visit, as day trips can be challenging to know where to start on such a short timeframe.
A Typical Itinerary by Day (reversible)
Stockholm, Sweden
Stockholm, Sweden
Helsinki, Finland
St Petersburg, Russian Federation
St Petersburg, Russian Federation
Tallinn, Estonia
At Sea
Gdansk, Poland
Berlin (Warnemunde), Germany
Copenhagen, Denmark
Aalborg, Denmark
Stavanger, Norway
Eidfjord, Norway
Bergen, Norway
Stockholm
When my husband and I talk about cities we could potentially move to in the future, we often put Stockholm and Copenhagen up there on the list. Of course, winning the lotto would need to be the first part of that plan, but still, it's a nice thought!
Stockholm is made up of an archipelago of some 40,000 islands, of which about 150 are inhabited. When the city was mostly industrial, the wealthy sector of the community moved to the islands to gain fresh air, and the high-end of society still lays claim to the best, including Tiger Woods' wife who has sought solitude and a very nice home on her own island here.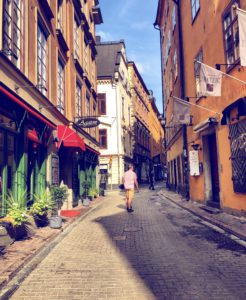 These days it's far less industrial and the city is absolutely beautiful to walk around, in particular the old town Gamla Stan which is a myriad of cobbled lane ways filled with waffle shops, pubs, restaurants and souvenir shops.
If you are able to arrive early for your Viking homeland cruise and spend some extra time to explore Stockholm I would absolutely recommend it. The ferries are a great way to get around and see the main islands which make up the city and the following are highlights not to be missed.
Grona Lund's Amusement Park. You will be able to see this from the ship, across the water on Djurgarden Island. It's especially pretty at nighttime when it's all lit up, and the admission is discounted in the evenings too. They have many types of tickets, you can check out prices here. Catch the ferry from Slussen over to the park.
The ABBA Museum. No trip to Stockholm is complete without a visit! Sing along in the karaoke booth, admire (or laugh) at the costumes and perform with the band on stage. It's a lot of fun, and easily accessed by ferry – it's actually very close to the Grona Lund park, so see above for directions.
The Vasa Museum. Possibly not the best example of Swedish maritime engineering, the Vasa 64-gun war ship sank on her maiden voyage in 1628. However, after 333 years on the sea bed, she is the best preserved ship of the 17th Century and is one of the most visited museums in Scandinavia.
Drottningholm Palace is the private residence of the Swedish Royal Family and is on UNESCO's World Heritage list due to being so well-preserved. Built in the 1600s it is representative of all European architecture for the period. The King and Queen still reside here today so their southern quarters remain private but the rest of the palace and grounds are open to the public year round.
Gamla Stan. As mentioned before, this is an area not to be missed, both during the day and again when lit up at night. There are so many restaurants to try (our favourite is Ristorante Paganini, a fabulous Italian) and streets to explore. You can either take the shuttle from the ship and walk into the area within 5 minutes or you can walk from the ship in about 20 minutes.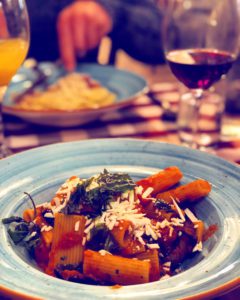 Stockholm is also the home of my favourite cinnamon buns. Find the nearest Brod & Salt, you'll thank me for it!
Helsinki
To be honest, Helsinki is a city I probably have the least experience with as it is visited less often on the Baltic itineraries, and each time we visit we've had very limited time for one reason or another. That said, I did one of my all-time favourite tours here, which I will talk about.
Helsinki is the capital of Finland, located in the far south of the country and is also made up of many islands, approximately 330. It's a compact city, easily explored by foot and has plenty of parks around to give it a fresh green feeling.
Some of the most popular tours include the below:
Visiting the medieval town of Porvoo, Finland's second oldest, is a popular excursion which takes you back in time to visit these picturesque 14th century red houses located on the water.
Sibelius Concert and Helsinki Highlights, enjoy a live performance of the music of Jean Sibelius followed by an engaging tour of the city.
Flavours of Helsinki, take a tour of a lively food market hall with your guide to experience the sights and smells of this foodie haven.
Reindeer Feeding and Panoramic Helsinki. This was the tour I did and absolutely loved! It was cold, seriously cold, but that actually made the whole experience even more perfect (and I don't say that very often!). You will be driven out to the Nuuksio National Park and meet with your guide who will lead you through the park and give you heaps of info about the reindeer. You will then feed them from a platform which is very cute, before heading into a large cozy teepee for a traditional lunch of salmon soup cooked over a fire and warm cinnamon buns. Delicious. Before returning to the ship you will be given a coach tour of the city with stops for photos along the way.
St Petersburg
I have written a whole blog on St Petersburg, so instead of repeating myself, jump over and have a read of 'St Petersburg – the good, bad & ugly'.
Tallinn
This is another one of my favourite cities which I had previously never heard of. Estonia isn't the first place on most people's travel lists, but everyone needs to visit Tallinn. The Old Town is UNESCO World Heritage listed and you will understand why. As you meander through the cobbled streets you may see locals dressed in traditional costume, standing at old wooden stalls selling sweet delights. You will literally feel like you have fallen into a fairy tale! Soak it all in as you admire the tall spires, hidden courtyards and gorgeous architecture. When you reach the main Town Square, visit one of the cafes, such as Kehrweider Saiakang, and explore the cave-like interior of this incredible venue. Be sure to try the local 'Vana Tallinn', a rum-based dark liquor, supposedly one of the purest alcohols made in Europe, which can be enjoyed alone, in coffee or as a cocktail. It's delicious however you have it!
Check out 'Fat Margaret' which is the watch tower at the start of the Old Town and the Viru Gates at the other end are extremely well-preserved. The Upper Wall can be walked around and gives a great view of the town and check out St Olav's Church for another point of view.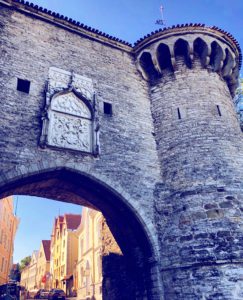 Many itineraries sadly only give guests half a day in Tallinn one way, and a couple of extra hours on the return (depending which way you are cruising). Aside from the chocolate making tour (I say as a total chocoholic!), I'd probably pass on the others and do your own walking tour to explore the Old Town, as it's just too beautiful to be missed. Alternatively, you can walk into the town from the port in about 20 minutes, or you may have a shuttle bus provided by your cruise line.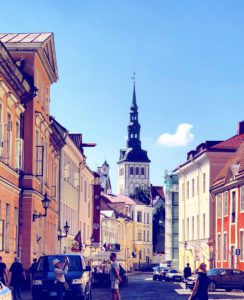 If you are in need of any emergency groceries or toiletries etc, Tallinn has a supermarket in a large shopping mall close to the Old Town…you will likely find many crew in there!
Think you can't afford to travel? Check out my post on how to make your home fund your travels here. 
Gdansk
Gdansk is one of those towns you have to put in a few hours to really appreciate it's charm. We were on a really tight schedule the first time we visited and didn't truly get the heart of it. The following visit I did a tour and saw it in a whole new light.
One of the richest of the Hanseatic League cities of old, Gdansk is located on the river, a key trading port, and has been rebuilt almost entirely following WWII bombings which decimated the city. Instead of rebuilding exactly as the town had been, they wanted to revert back to their origins pre 1793, removing all traces of German influence and emphasizing the Flemmish-Dutch, Italian and French architectural styles. Take a stroll down the river and you will clearly see this on both sides, creating a colourful and quaint atmosphere, with a touch of modernism found in the 'taxi' styled pedalos that visitors can hire!
Famous for it's Amber, you won't have to go too far to find it being sold on the streets and in many of the shops. Part of my tour took us into one of the best amber shops to meet with the owner who showed us how to tell real amber from fake, and how it is found, polished and turned into beautiful jewellry.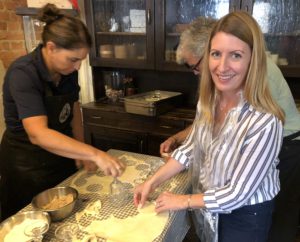 The next part of my tour was to one of the riverside restaurants for a 'pierogi' cooking lesson, a local Polish 'dumpling'. The dough had been made for us, but we needed to roll it out and create these little delights before they were taken into the kitchen to be boiled and then served to us to enjoy our labours of love. They were absolutely delicious! The ship served them as a local offering for dinner, but I have to say, ours were better!
Another specialty for Gdansk is Goldwasser, a strong root and herbal liquor being produced since at least 1598 and characterised by it's small flakes of 22 or 23 karat gold. This was served to us after an extensive tour of the town, exploring the charm-filled streets, Golden Gates, Neptune's Fountain and the Town Hall.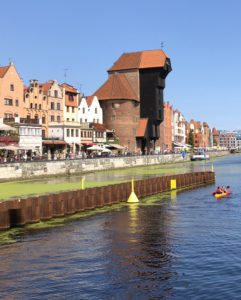 Other tours available in Gdansk include Stutthof concentration camp, a sombering visit to this preserved educational site, or enter the world of the Teutonic Knights with a visit to Malbork Castle or you can discover the Polish canals by boat.
Warnemunde (Berlin)
Berlin is a highlight of this cruise for most guests, but it's a big day with an early start, a late return and a very long train journey. However, this isn't to put you off, most cruise lines manage the whole operation with practised skill, although be prepared that the trains don't all have air conditioning…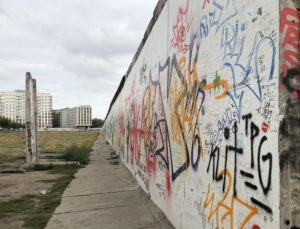 I took a Scenic Berlin by Coach and Cruise tour, which was a really great way to see the highlights of this city. We visited remnants of the Berlin Wall, saw Checkpoint Charlie and the Brandenburg Gate before travelling across to the former East Berlin. We were then taken to a sightseeing boat to cruise down the Spree river, past the Berlin Cathedral, Museum Island, the Reichstag and the new government quarter, whilst enjoying a three-course lunch. The meal was a simple one (think rissoles and potatoes), but the apple pie dessert was delicious! Back to the coach for a few more highlights and some free time for shopping before heading back to the train for the return journey to the ship.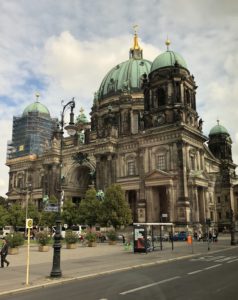 Other Berlin tours include Berlin and Lunch at the Reichstag, Sachsenhausen (concentration camp) and Berlin, Panoramic Berlin and of course, you can get the train into Berlin yourself from the nearby train station, just a 10 minute walk from the cruise ports.
If you don't fancy the long schlep to Berlin, you will still have a fabulous day in Warnemunde. A picturesque town built on the river and with a beach a short stroll away, this place has it all. Bright coloured buildings, chalet-style food outlets (try the curry wurst), boat trips, restaurants with sunny balconies and every type of beer you can imagine!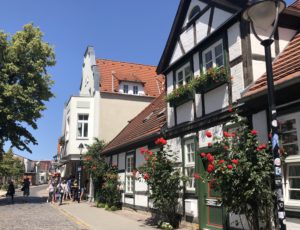 Rostock is the next town and can be reached either by tour, or train or grab a taxi. The architecture is still beautiful and being a larger town there are plenty of shops to keep you busy. Rostock Zoo is also fabulous, you can pre-book tickets online to avoid the queues, and wear comfy shoes as it's a big park.
Copenhagen
As mentioned at the start, Copenhagen is another of our favourite ports which we fall in love with a little more each time we visit. Aside from the obvious attractions such as 'The Little Mermaid' (which is surprisingly little…), the beautiful coloured houses lining the river at Nyhavn (home of Hans Christian Andersen) and the delicious ice cream and waffles, there is so much more to this welcoming city.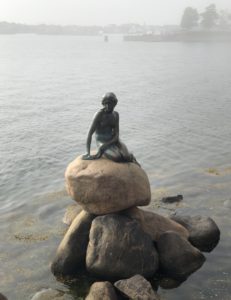 Founded in the 10th Century, the Danish capital of Copenhagen was originally a Viking fishing village and is filled with over 850 years of history.
I've taken a couple of tours here. The first was the Jazz Cruise, which is an evening cruise departing just a 10-minute walk away from the ship. The jazz band were absolutely fabulous and we had the most perfect evening to enjoy the scenic champagne cruise through the beautiful waterways of this city.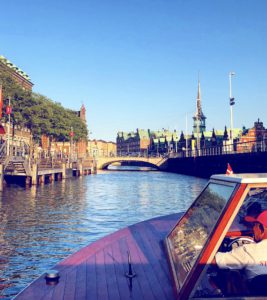 More recently I took the Christiansborg Palace and Tivoli Gardens tour. The Palace is the seat of the Danish Parliament and house of the Queen's reception rooms. We were lead through beautiful libraries, dining areas and viewed fascinating tapestries telling stories of over 1,000 years of history. Note that overcoats and bags larger than a small handbag will need to be checked in, or left on the coach, and you will be asked to wear blue covers over your shoes to protect the floors.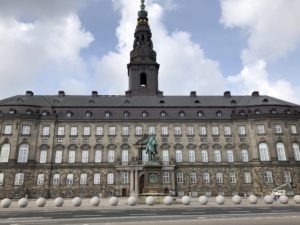 The coach then drove on to Tivoli Gardens (watch for cyclists as you disembark the coach!) and the guide gave a quick tour and overview of the park before leaving us to enjoy free time and the rides or shops. Tivoli is one of the original amusement parks, opened in 1843, and is thought to be where Walt Disney got his inspiration for Disneyland. The Classic Carousel was built in 1900, the Roller Coaster in 1914 and the Ferris Wheel in 1943. The park is not large by any stretch of the imagination, but it feels a whole world away from the bustling city which is right outside the gates. Enjoyed by young and old alike, this is real escapism for locals who live in small residential homes in this expensive city, and plenty of concerts and festivals are held year round to keep this the institution it's recognised to be.
Other tours include a visit to two of the city's favourite microbreweries (cheers!), a food lovers tour to enjoy some of the innovative Nordic cuisine, and Sweet Treat Creation at Cakenhagen.
If you want to head into town from the cruise port you will likely have a shuttle bus provided, or we like to walk into town which takes us through a lush green park, and a gorgeous residential area, past a river and into the end of the main shopping area. It takes about 25 minutes but if the weather is good it's worth the effort.
The heart of the city is a relatively large area, mostly pedestrianised and with all the usual mainstream shops you would expect to find in an international city. The cobble stones and picturesque streets give it so much character, you will want to go explore every one of them.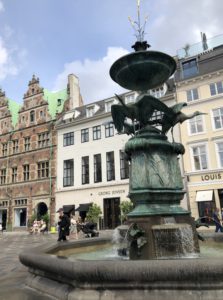 There are several cinemas in the city but we discovered one of the original ones in the centre which is just gorgeous. The screens aren't huge and there are no cup holders which is a little annoying – because they serve alcohol for you to take into the theatre! The area this is located in oozes funkiness and charm too, so allow time for a drink or dinner pre or post your movie.
Aalborg
Aalborg is another of those ports which I jumped off for a quick look around on my first visit and wasn't very impressed. The second time I had longer and tagged onto a walking group and discovered so many gorgeous parts of this little town (you may be learning here – I recommend the walking tours if you're on a cruise which offers this, don't waste time getting lost or missing the key areas on your own when on a tight time limit!).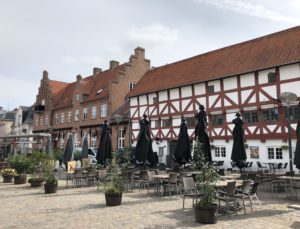 Founded in the late 900s by the Vikings, this historic city straddles both sides of the Limfjord Sound and is easily accessible by foot…or bike, of which there are many.
Sadly, Aalborg is also a port which you will likely only have half a day to visit, which is a shame because it actually has a really great nightlife with a strip full of restaurants, bars and clubs.
However, if you're not adverse to a midday drink, the pub right opposite the ship does some fabulous fruit beers…!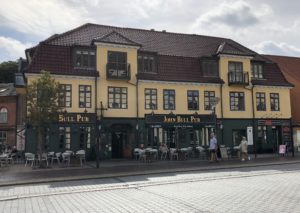 Talking of alcohol, try the traditional Aquavit, a herb-infused spirit distilled here since the 15th Century.
If you go for a wander through the main shopping area you will find lots of great shops (including the high street staples) but don't be afraid to step off the main streets down little lane ways, you will discover the prettiest houses, covered with flowers and black iron lamp-posts and perhaps even a church steeple in the distance. Truly stunning.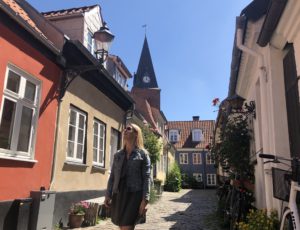 Other highlights are Jens Bangs stone house, the Baroque-style city hall, the Gothic 14th Century Budolfi Church and the Church of our Lady which houses the original bells dating back to the 12th Century.
If you are a huge fan of the hit TV show Friends, you may get a little excited when you discover the Friends cafe. Don't. The service is terrible and food even worse, unless you like oversized portions of bad American-style food. Don't say I didn't warn you.
Denmark is trying to become a cash-free society, pushing people to pay by card, which is fabulous for tourists, not needing to worry about local currency. However, they've gone a step further and have 'Mobile Pay' which is a Danish app that links to your bank account and from what I can understand, creates a pin number for you to give to shops to make purchases. I'm sure it's great for locals, but very frustrating for everyone else, as it means you literally cannot make any purchases in these stores.
Throughout Denmark and Sweden you will likely see many cafes called 'Espresso House'. There are far more of them than Starbucks (thank you!). We have really enjoyed these, especially in Aalborg which has chocolate sticks which melt to create your hot chocolate or Mocha – yum! Internet is open, free and pretty fast, seats are big, squishy and cosy, and the bathrooms are clean and classy. Perfect. Oh, and the chicken flatbread was delicious too.
Stavanger
One of the most expensive ports, Stavanger has got it's wealth from the oil and gas industry. Many locals work in the oil rigs in the North Sea and are able to live comfortable lives in this pretty seaside town. You can visit the Petroleum Oil Museum to hear stories of the dangers faced whilst extracting this precious fuel.
Another popular tour from Stavanger is Pulpit Rock, jutting out nearly 2,000 feet above. Most cruise lines offer boat tours to take guests close to Norway's most famous natural attraction and I would definitely recommend that you do. Whilst the rock itself doesn't look all the impressive from below, the whole boat trip is really spectacular through the fjords.
If you want to get up close and personal with the locals, you may be able to do a home visit to experience how they live, discover their traditions, how they decorate their homes and look after their gardens, and you'll be treated to a Norwegian favourite, waffles and tea.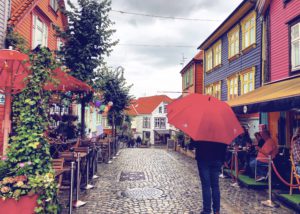 Personally, we love to just stroll around this picturesque town, usually with a bee-line to our favourite cafe, Boker og Borst (means books and beer). Trust me, you need to check this place out. They do the best hot chocolate and if you have a sweet tooth like us, the Guiness cake with peanut butter and salted caramel frosting won't disappoint!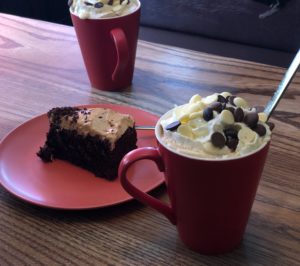 Outside of this cafe is the most incredible street. I call it my happy place, as I've never seen anywhere so colourful and quirky in my life. Head to "Fargegaten" and get snap-happy!
There are two main docks in Stavanger, you could either be right in the heart of the town, or you could be a 10-minute walk on the other side of the bay. If located in the further dock, you will be looking out at beautiful small lanes filled with white buildings, broken up with so many bright coloured flowers. Cafes and shops are tucked in between, it's worth a walk to get a real feel for the essence of this town.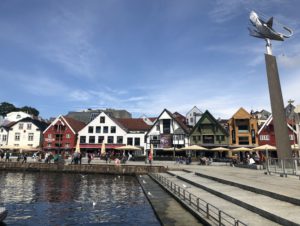 You'll also notice a row of historical tall pointy buildings in bright colours which are wooden pubs and restaurants. On a sunny day, they are packed with locals and tourists, music pumping. When we docked unexpectedly very late, these are cozy bars with fireplaces and friendly staff who will make you feel at home.
However you choose to spend your time here, I promise you will love it!
Eidfjord
When you open your curtains in Eidfjord you'd be forgiven for thinking you are in some kind of fantasy-land. You know those amazing pictures you see in IKEA and think, surely that doesn't exist? Well, it does, and you just arrived!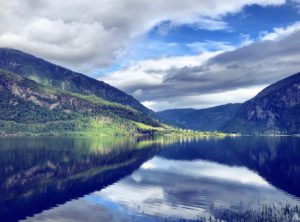 Hopefully you're in Eidfjord when the snow is still on the mountains, but even without, it's spectacular.
The 'town' itself (I say that loosely as it's tiny!) doesn't amount to much. Bizarrely it has two small supermarkets right next to each other, a couple of cafes, a hotel/restaurant and a more recent addition is a Thai food truck – definitely worth checking out as the food is absolutely fabulous.
There are a few tours you can take from here, mostly water based (kayak/RIB boats) but to be honest, the best tour you can do is the scenic railway, the Flamsbana train from Voss to Flam. The scenery is incredible, particularly the stop at the waterfall with a lady in red who appears from nowhere and dances to music then disappears just as quickly – surreal!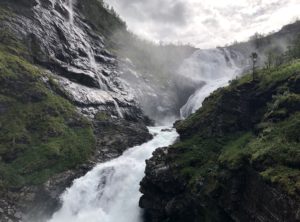 If you want to get around yourself, you can hire a 2-person electric car from Eidfjord. These cars aren't the most comfortable and although they give you a blanket, you will need to wrap up warm as the windows and doors don't seal closed, but I can tell you that they are incredibly robust. Just remember to drive on the right side of the road.
Bergen
Bergen is one of the ports we've probably visited the most, being the turnaround port. Docking next to Bryggen, a UNESCO Heritage Site, you can easily stroll the waterfront and get a feel for this charming town.
We seem to get very lucky, as Bergen is known to be the wettest city on the planet, raining a massive 240 days a year, yet we probably see the sun for about 70% of the time we're there. I should probably touch wood right about now…!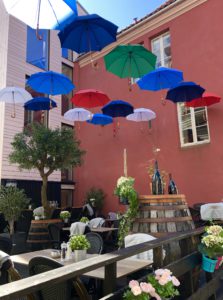 The town is quite expansive, be prepared to walk some kilometers if you want to properly explore more than the tourist areas close to the port. You will find all your usual shops, but make sure you walk through the markets and check out the freshest of seafood and some rather unusual delicacies. Mind you, Norway is so expensive you may wish to save meals to the ship!
If you are wanting a lighter snack, the hot dogs you will find in a chalet style kiosk, a few doors up from MacDonalds are fabulous, and opposite that is one of the most beautiful Starbucks you're likely to see!
Another fabulous way to see Bergen is to take the Floibanen funicular railway up to Floyen mountain. The views are spectacular and if you're feeling really energetic you can hike back down again.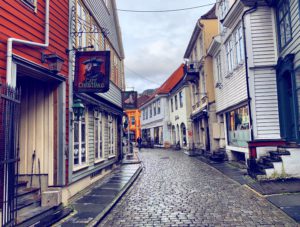 If you're seeking a closer insight to the lives of the locals outside of the city centre, look for a tour offering 'A Taste of Norwegian Farm Life'. I really enjoyed this one, which is a short coach ride to a beautiful family farm. They will give you a tour to meet the animals (horses and sheep) and then take you into a beautiful chalet style building to give you some history on Bergen, farming and how processes have changed over the years, whilst enjoying a locally produced fruit drink. From here you will head into the main part of the farm and be seated for a delicious coffee/tea/hot chocolate and a large selection of cookies and local delicacies whilst the hosts perform a local dance in national costume (tip, please don't ask the owner if it's his wife or kids, they're not, they're his staff and it became awkward how many times my group kept asking him!). I'll be honest, the main reason I took this tour was because the Shore Excursions Manager wanted me to bring her back cookies and the fruit drink, but I enjoyed it nonetheless. The owner was so lovely, he packaged up a huge amount for all the team, I was a popular girl that day!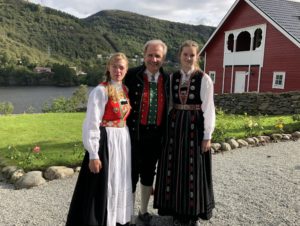 Other tours include a visit to Lysoen Island and Fantoft Stave Church, Norway's most treasured Stave church; a visit to the Dale Museum, discover the history of these iconic Norwegian sweaters, and one of the most popular tours, a visit to Grieg's House to enjoy the music of this famed composer.
Bon Voyage!
Ok, we're not visiting France here, but the Norwegian/Polish/Russian/Danish/Swedish translations were too hard to write, and you get my gist! That's my round-up on this itinerary, I hope you have found it to be useful. Of all the cruises we have done, we really do enjoy this one the most. It's a great mix of bucket-list cities with lesser-known hidden-secret towns, and all of them will provide you with hours of photo viewing when you return home. Don't be afraid to wander off the beaten track, you will be rewarded with the most gorgeous laneways and cute cafes. At the same time, makes the most of your sometimes limited duration in ports by taking the walking tours. These can be great to give you an idea of where to go back to for further exploration, particularly if you take an early morning option.
If you have cruised this itinerary and have some tips, please do share them. If you have any questions or want to know more about anything, don't hesitate to ask.
Thank you for reading as always, I appreciate it!
Wendy A x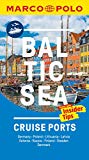 If, like me, you enjoy reading Travel Guide books and having them as a handy reference tool, check out this Marco Polo pocket guide to Baltic Sea Cruise Ports