Cruising can feel like a whole other world of holidaying when it's your first time. But when everyone is doing it, even your Great-Aunty Sally, and the Johnsons down the road, surely you're missing out if you don't give it a go. Follow this first time cruise checklist and you'll step on board feeling like a pro…!
Is this the right cruise for me?
Hopefully you've done some research into this one already, but if you need some help, here are some pointers:
Check the following:
1. Is the Cruise line you've chosen going to give you the type of holiday you want? There are many factors to this, similar to when you choose a hotel, you will decide what 'star' rating you want (although technically cruise lines don't have star ratings, they will give you a guide of where they sit), you'll check the facilities on offer etc. The same applies to cruising. Don't just grab the best bargain or go with other people's recommendations unless they are like-minded. Understand what type of people you will be cruising with, check what entertainment is on offer, do they allow kids, are there casinos, what is included in the price, what excursions do they offer. I suggest you chat this through with a cruise specialist travel agent as it can be hard to find all the info to compare online.
Everything you need to plan your next cruise. Find reviews, expert advice, and great deals on Cruise Critic.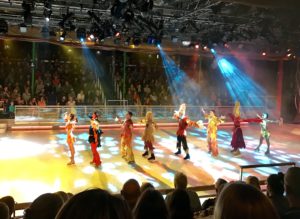 2. Is the destination really where you want to go? Is it a relaxed beach-type itinerary or a more adventurous city driven itinerary? How many tender ports are there vs docked (need to allow extra time to get the tender to land, more challenging for guests with mobility issues)? Obvious, but, you know… I'll be writing a blog on the differences in itineraries shortly.
3. Do you have a cabin type/location you're happy with (inside/outside/balcony/suite, front/back/centre, high/low, obstructed)? If you are concerned about getting sea sick, generally low and middle is your best option.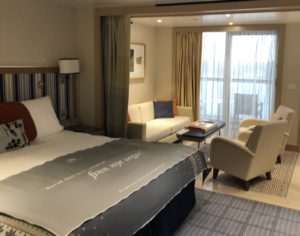 4. Is the size of the ship ok for you, not too large, not too small? Think about how much walking this involves and that more people inevitably means more queues.
Not sure which ship to choose? Check out my comparison posts, for both Large Ships and Mid-Sized Ships!
5. Is the length of cruise ok – enough time to relax, but not too long if you're not sure if you'll enjoy it? Bear in mind that some short cruises (2-4 nights) can often be 'booze-cruises' (depending on the cruise line obviously), so 7-12 nights may be a better starting duration.
Do I have the correct documentation?
1. Unless you're doing a domestic cruise, you will need a passport. For domestic, a driver's license is usually ok, but check with your cruise line. Also, do you have at least 6 months validity on your passport, some countries (Bali in particular) can be really strict with this.
Use a family travel document holder keep everyone's passports and boarding passes together…click to check prices on Amazon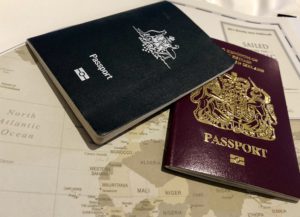 2. Do you require visas for your destination? Check with your travel agent or local embassy to assist you. Some visas can be time-consuming to obtain, so allow plenty of time to get this sorted.
3. Have you got your 'boarding pass' from the cruise line? You normally get this online once you're fully paid (if you are part of a group, the whole group may need to be fully paid before you can access this).
4. Do you have your luggage tags from the cruise line? (you can usually get from the pier if not, don't stress this one!).
5. Are you travelling with kids, and if so, do they have the same surname as you? If not, you may need a parental permission form, signed by a JP. Check with your travel agent or the cruise line for assistance with this.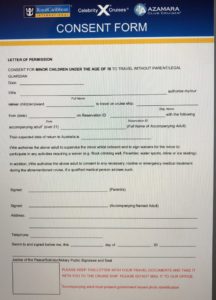 Have I packed correctly?
I'll do a post shortly on tips of things to pack when going on a cruise, but these are some key things NOT to pack:
1. Power boards are often forbidden – check with your cruise line.
2. Hair dryers are often forbidden and usually provided in your cabin anyway (hair straighteners are ok to take).
3. For most cruise lines, you can not bring your own spirits on board – wine is often ok, but check.
4. Coffee machines can not be brought on board – random that I write this, but believe me, I've seen people try!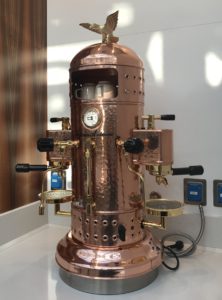 5. Drones are usually not permitted on most cruise lines and will be confiscated until the end of the cruise or held by security for you to collect when in ports.
What's the check-in process?
Each cruise line will have their own process, but generically speaking, this is what to expect:
1. You will be told what time to arrive at the pier (check your boarding pass), usually worked out by your cabin type or deck – stick to this time, particularly if you're on a larger ship as they'll turn you away if you're early.
2. You can usually drop off your suitcase early (shortly after the ship has been cleared from the previous cruise) and then wander around the port/town until your allocated check-in time.
Time to buy yourself some new luggage? Check out prices on Amazon here. 
3. If you haven't dropped off your bags already, you will do that first – look for the signs, or a stevedore will find you to assist. If you don't already have a luggage tag, they'll do this for you.
4. Enter the main terminal showing your boarding pass and sometimes also your passport.
5. Enter the correct queue for your cabin type/loyalty tier and have your credit card and passport ready, as well as your cruise boarding pass.
6. The check-in team will take your documents, often photocopy your passport (check if this is required for you to provide beforehand), take your photo (or this will be done as you board) and your credit card details will be taken. If you don't have a credit card, you will need to put down cash, generally travel payment cards are not accepted. You will generally be given your Seapass/onboard pass/key at this point – do not lose it! You may want to bring a lanyard to clip it straight onto, or you can purchase a cute cruise designed one here.
7. You will enter security – the same as if you were at an airport. Your bags will be x-rayed, and you'll go through the scanner. Don't worry about the liquids rule at airports, this doesn't apply to cruises.
8. As you board the ship, they will ask for your ship pass and 'dong' you in. If not already done, they will take your photo – remove your sunnies and smile 🙂
I'm on…now what?
1. Your cabin most likely won't be available to you until after 2pm. Ensure you have your swimmers, any meds and anything else you may need in your hand luggage. Even when you can enter your cabin, your bag may not arrive until before 9pm.
2. You may have been travelling for a while, so take a load off in the buffet restaurant which will be open and waiting for you with a nice cold drink and a huge array of food to enjoy.
3. Go explore! Ships have great signage to help you find your way, so I usually go for a wander to get my bearings and decide what activities etc that I want to do during the cruise.
4. When the cabins are ready, this will be announced to you by your Cruise Director. You will find lots of great information provided in your room, in paper form and on your TV.
5. If you have any issues with your cabin, you can go to Guest Relations to assist you. If you need to change your dining time/restaurant/make a specialty restaurant booking, go the main dining room where a Maitre'D will be waiting to assist you, or on some ships this can all be managed at guest services.
6. Guest drill. Every ship will require you to attend a drill before sailing, this is due to Maritime Law and can not be escaped (don't try hiding in your cabin, they will find you!). Each cruise line does it a little differently, some requiring you to wear your life jacket to your muster station, some out to the lifeboats, some just require you to attend a demonstration. It's an important exercise, and can make for some fun photos if you just go with it!
Enjoy your cruise!
Although it may feel a little foreign to start with, you will find that everything flows very well with cruising, this is why people love it so much and return time and again. If you follow this first time cruise checklist, you shouldn't have any problems and I reckon you'll be an addict before the cruise is over!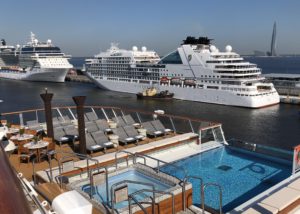 Please feel free to add anything I may have missed, or give me your feedback – I always love to hear from you.
Happy Cruising!
Wendy A x
Want to hear cruise opinions from experienced cruisers? Join the acclaimed Cruise Critic network to keep informed about all cruise lines and meet fellow cruisers onboard.

Pin for later…