Do you know where the 'booby hatch' is and why you would use a 'gash-fanny'? Why crew beg colleagues to swap their 'IPM' or are filled with dread when they hear of an upcoming USPH inspection? Read on to have these fascinating nautical sayings explained, understand the training the crew go through and learn a few other interesting nautical terms…along with some crew memes purely for humorous purposes! Enjoy 🙂
AFORE
Towards the front of the ship, or even in front of the ship.
AFT
Towards the back (stern) of the ship.
AHOY
A cry to gain attention, if from another ship it will be 'ship ahoy'.
ALLISION
Not a word you want to hear, this is where a ship has allided with a fixed, non-submerged object and therefore the vessel is at fault, as opposed to a collision.
ANCHOR BUOY
A buoy attached by a light chain to the anchor to indicate above the water where the anchor is located.
ANCHOR WATCH
The team of crew assigned to monitor the anchor to ensure it doesn't drift. Most ships will have an anchor alarm on their GPS units which also alerts of significant movement.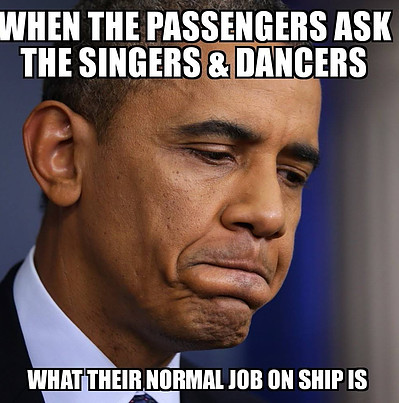 APORT
Over to the port (left) side
ASTARBOARD
Over to the starboard (right) side
ASTERN
Towards the rear (stern) of the ship, or behind it
BAGGYWRINKLE
A soft material used to cover cables to prevent sails from chafing. You'll never hear this used, I just thought it was funny!
BALLS TO FOUR WATCH
This is the watch shift from 00:00 – 04:00, obviously.
BEAM
The width of the ship, usually taken from the centre which is commonly the widest part
BEAR UP
To sail into the wind
BERTH
i. An allocated place in a port for the ship to dock
ii. An allocated bed in a cabin
BLUE PETER
A blue and white flag (the letter P) raised when a ship is about to set sail. Formally a white ship on a blue ground, more commonly now a white square on a blue ground (for the Brits – I had no idea this is where the longest running kids show Blue Peter came from; the creators liked the thought of the show being a 'Voyage of Adventure', plus kids liked the colour blue and they thought every child had a friend called Peter!).
BOARD
To enter/climb onto a vessel
BOMBAY RUNNER
A large cockroach! Let's hope you never see one of these on a cruise ship!
BOOBY HATCH
A sliding hatch or cover. Obviously.
BOW
Front end of the ship.
Also, what the cast do at the end of their shows.
BRASS MONKEY / BRASS MONKEY WEATHER
Used in the expression, it's cold enough to freeze the balls off a brass monkey.
BRIDGE
The command centre, stretching the whole width of the vessel. Where you're likely to find the Captain.
BUNTING TOSSER
The signal man who raises the flags. I'm sure they're a nice person really.
CABIN
Where you'll sleep on the ship, also known as 'Stateroom' or 'Suite' depending on the cruise line.




CAPSIZE
Not something you want to happen, when the ship lists too far and the keel is exposed…also known as 'turtling'.
CAPTAIN
Also known as 'The Master of the Vessel'. They have ultimate responsibility for the ship and all on board.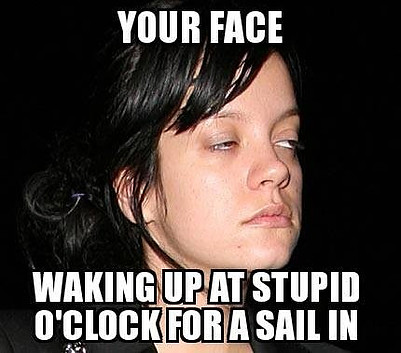 CARTEL
A ship employed on humanitarian voyages, flying a 'truce' flag. Under International Law these vessels may not be captured or seized.
CATS PAWS
Light winds creating a pattering of small waves
CLEAR
When customs and other port legalities have been performed and the ship can leave the port, or guests are able to go ashore.
COCKSWAIN/COXSWAIN
The crew member in command of the boat.
CREW DRILL
Crew drill is compulsory for every cruise line (as is Muster for guests, but that only occurs once at the start of the cruise). The Captain can decide how to run each one, whether to lower the lifeboats for a full rescue drill or whether to keep it on board for a medical drill, or even do a full evacuation to shore side. The crew have to be prepared for every type of incident, without having to think about it. Every single crew member has a role and a station. They will know this as soon as they sign on for their contract and will stay in that position for the duration of their time on that ship. This ensures that all positions are covered and that the person in that role knows it inside out, should any emergency occur.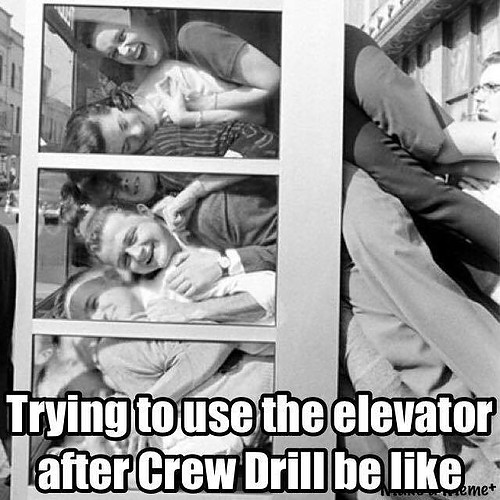 CRINGLE
A rope loop, usually fixed to the corner of a sail to affix to the spar. Nothing to do with random $2 gifts at Christmas then.
CUT AND RUN
When a ship needs to leave quickly it may cut its lines and even anchor chain in order to make a hasty exit, whilst ignoring usual departure processes.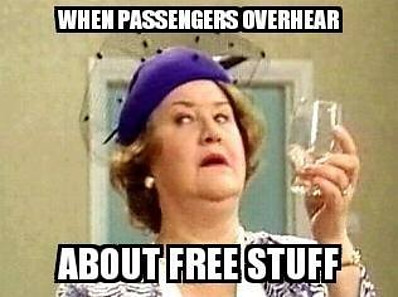 DAVIT
A crane used to lower and raise things from the ship, often used for lowering lifeboats into the water.

GROGGY
Drunk from consuming too much grog!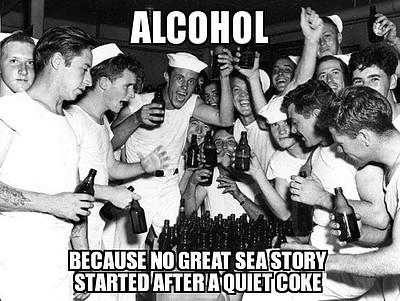 HEAD
i. The most forward or uppermost part of a ship
ii. The toilet on a boat, which traditionally were projected from the bow, so the 'head' of the ship
iii. So many more, but let's keep this family friendly…
HULL
The base shell of the ship.
IPM
In Port Manning is the bane of every crew member's life, but sadly cannot be avoided. Each cruise line manages it a little differently, but basically every employee (senior officers usually excluded) have a 'colour' or 'code' and the days rotate through these colours/codes. When it's your code, you are not allowed to leave the vessel for any reason on that day. This is to ensure that should any incident happen whilst in port, there are enough crew on board to be able to take care of it. Crew can generally swap with another crew member if they wish, but they can only swap with someone who does the same emergency duty as themselves.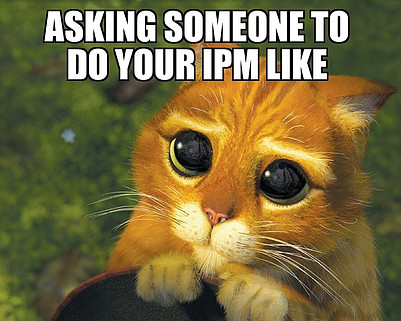 JACK
i. A sailor
ii. Any flag flown by a vessel – informally used
JOLLIES
Nickname for the Royal Marines, often used by the Royal Navy
KISSING THE GUNNER'S DAUGHTER
Being bent over the barrel of a gun for a beating, often with a cat'o'nine-tails
LAND LUBBER
A person unfamiliar with being at sea
LANYARD
Those hideous sparkly things that cruisers use to carry their seapass cards around their necks, thinking they look cool. They don't.
Oh, also a rope used to tie things off.
LOOSE CANNON
A loose cannon can cause a huge amount of damage on a ship due to its weight and if crashed into the hull could affect the ship's overall seaworthiness. Hence, this term is also used for a person whose behaviour is dangerous amongst a group of people. You just learnt something new didn't you?!



MAE WEST
A personal flotation device named after the actress' rather large bosom!
MV
Motor Vessel prefix used before the ship's name
NO ROOM TO SWING A CAT
It was expected for all the ship's crew to watch a flogging on deck. When it was very busy, there wasn't enough room to swing the cat-o-nine-tails.
OLD MAN (THE)
Crew's slang for the Captain.
OVERBOARD
Something you don't want to be…
OVERWHELMED
Capsized or foundered
POOPED
i. Swamped by a high sea
ii. Exhausted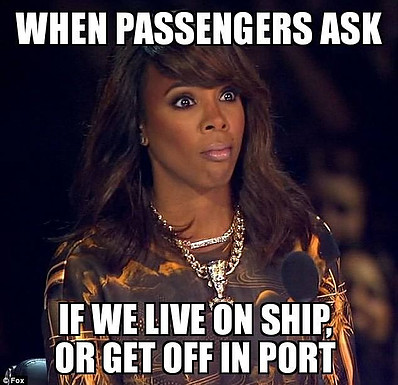 PORT
i. Left side of the boat/ship
ii. A nice warming drink to enjoy
iii. Where the ship docks
PORTHOLE
i. A round opening made of thick glass, often with a metal cover
ii. My view of the world for about 8 months of the year!
PURSER
Originally the person who buys and manages the stores on board. Nowadays a warrant officer.
RADAR
Acronym for RAdio Detection And Ranging. An electronic system to send and receive signal to measure the distance of an object.
REEFER
A shipboard refrigerator or refrigerated cargo ship.
RIB TICKLER
A bargeman's name for a tiller
SALTIE DOG
Slang for a sailor, particularly in the Navy
SCREW
Propeller
SEACOCK
A valve in the hull of a vessel to allow water in/out
SEXTANT
Navigational tool to measure latitude
SISTER SHIP
Ships of the same class, built very similarly, if not exactly the same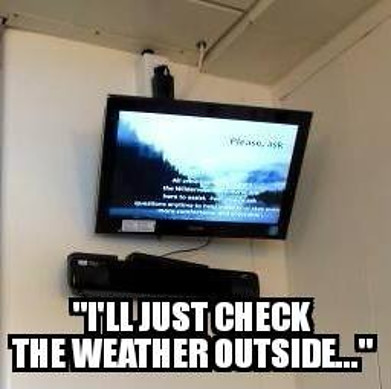 SNOTTY
A mid ship man, mostly used in the Navy
SQUARE MEAL
Served on a square plate, this was a sufficient amount of food for crew, more than served to the average land person. Although there is no recorded connection to the well-known term of eating a square meal and the fact that the plates were in fact square.
STCW TRAINING
Did you know that every single crew member has to complete their STCW (Standards of Training, Certification and Watchkeeping for Seafarers)? This is a 5.5 day course (the extra half day is to be on a large commercial cruise ship, the 5 days is for crews on private yachts or any other water vessel). The course covers everything from First Aid, Crowd Control, Water Rescue, Fire Fighting (yep, they literally go into a real fire container to search for fake bodies). It's not for the fainthearted, but it does prepare them for any incident at sea. On top of this, they need to complete a full Medical (from a maritime approved centre) and both this and the STCW certificates are required for them to be able to start their contracts on board.
THREE SHEETS TO THE WIND
On a three masted ship, leaving the three sheets loose resulting in the ship meandering around aimlessly. Also, someone who has had too much to drink.
TOE THE LINE
At a parade, sailors were made to stand in line, with their toes lined up with a seam on the deck.
TOUCH AND GO
The bottom of the ship touching the sea bed but not grounding. Also, pulling into a dock to let goods or crews on/off without securing her, and leaving immediately after.
UNDER THE WEATHER
Being positioned on watch duty on the weather side of the vessel, exposed to the wind and rain. Lovely.
USPH INSPECTION
United States Public Health Inspection…something every crew member dreads as the officials come on board and check the cleanliness of absolutely everything and the ship receives an overall rating. Jobs are on the line if the rating isn't extremely high.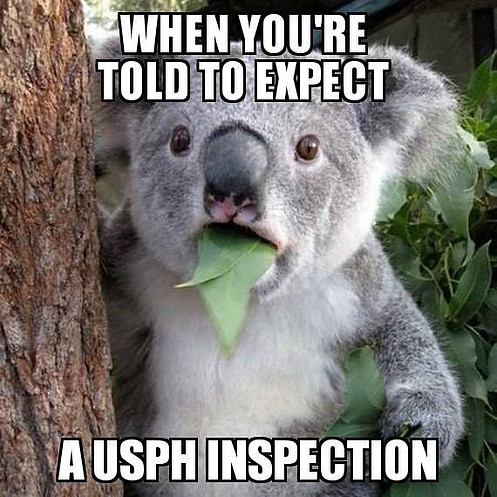 WATER TIGHT DOORS
In an emergency drill, the water tight doors will be closed. These are very strong doors which will close off a corridor and stop any water flowing through. They can crush anything in their way to close, even a human body, so you don't want to be between them should they be closing!
Ok, that's all the interesting ones I have for you. There are obviously hundreds more, but some are very complicated and not very exciting quite frankly, so I thought I'd save your brains being fried!
So, were any of those new to you? Find any of them interesting? Hopefully you learnt a thing or two, and maybe even had a laugh? Let me know, I always love your feedback 🙂
Thanks for reading, see you next week!
Wendy A