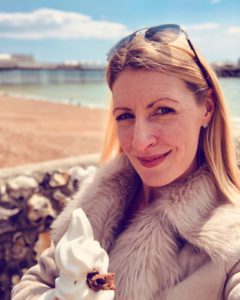 Thank you for visiting the inner workings of my nomadic, sarcastic and somewhat scattered brain! I hope you make yourself at home here and interact with me regularly so I don't feel like I'm talking to myself…at least not all the time!
MY STORY
Ahh, where to start… British born and raised, but having family in Australia, meant every other Christmas was spent in Sydney from the age of about 12. When I finished college, I took a 'gap year' with a friend and borrowed my Dad's car for 6 months to travel the east coast of Australia and basically 'bum' before I started Uni!
One Uni course done (interpret as you wish) I returned to Sydney to live with my Aunt and work in the FMCG industry (ok ok, McD's!) until I started my second Uni course back in London. Fast forward a few years and I got itchy feet again so back to Australia I went to find my place in the TV industry (which my degree is in)…Neighbours and Home & Away aside, the Aussies weren't making a whole lot of TV in those days…cue career change into Event Management and a return to London…
You get the gist here…ask me where's home and be prepared for a long answer! Currently our 'base' is in Penang, Malaysia, but with my husband (Beven Addinsall) working as a Cruise Director for a beautiful cruise line, I spend about 8 months of each year on a ship, travelling the world. Tough gig huh.
WHY I WANT TO HELP PEOPLE
So why am I doing this? Well, I've arrived in many a city with absolutely no clue what to do, where to go, where to see…yet as soon as I leave, I seem to find people all giving me a ton of info on what I 'should' have done…yep, thanks, not helpful. Hopefully I can give you some tips before you arrive so my pointers actually have some value! I'll let you know where is best to get a bite to eat, or a good coffee, what activities are worth doing and I'll try to add in a sustainable tilt where possible too, cos, well, one planet and all that…
WHY HAVE I CREATED THIS BLOG?
Well, there are literally thousands of beautiful young bloggers/vloggers out there, all in their stunning floaty colour coordinated outfits and chic high heels… Good on them. They look fabulous. But I'm not twenty-something, and I travel with about 25kg weight allowance for 6 months at a time, covering all seasons, and my feet are not designed for walking for 8hrs at a time in heels. Does that make my information any less relevant? Does it make me less appealing to potential followers? Well, I hope not, cos this me. Raw, real, authentic, sarcastic, nomadic, unstylish, and hoping to inspire other forty-somethings to travel the world and live their dreams too.
DISCLAIMER
Everything I write is my own opinion, unless explicitly stated otherwise. I do not work for any cruise line, nor are my comments and opinions that of any cruise line/hotel/port…whatever!
If you ever need a hand or have any questions, feel free to leave them below and I will be more than happy to help you out.
All the best,
Wendy A
thefortysomethingtraveller.com