Brighton is one of those iconic holiday destinations for Brits. Picture blue and white deck chairs, fish and chip shops everywhere, Mr Whippy ice creams part of the daily diet and old school fairground rides at the end of the Palace Pier to enjoy. Growing up just over an hour away, I have spent many a weekend exploring the bars and clubs by night and shopping in the Lanes by day. Great memories. However, I'm no spring chicken and a lot has changed since then, so heading down for a weekend with my fabulous friend @thethirtysomethingtraveller Stevie G was really fun to check out everything new.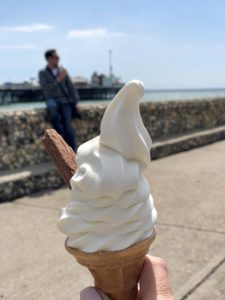 So, why should you visit Brighton….?
Brighton beach
For anyone who isn't English, when you say 'beach' you usually picture beautiful sandy stretches with palm trees and turquoise waters…pass me a cocktail. So, I can appreciate that Brighton often disappoints with it's pebbly beach, freezing waters, (often a little murky looking) and not a palm tree in sight. But, don't let that put you off! It's still a popular part of the town and where all tourists tend to gravitate for the many activities on offer.
Take a stroll down the Palace Pier – a Grade II listed pleasure pier – for an assortment of typically English food and enter a thrill-seekers delight! The Pier is open every day (except Christmas day) from 10am – 7pm and you can pre-purchase wrist bands which give you unlimited rides for a fixed price, with discount for online bookings.
Fun Fact: the pier is the length of 65 double-decker buses back-to-back!
You will also find many new restaurants, bars and cafes which have opened along the beach front. Serving everything from pub grub to oysters, you're sure to find your vibe at one of them, and can enjoy people-watching over your prosecco or 'sex on the beach'.
We particularly liked The Lucky Beach which is an award-winning cafe for its focus on sustainability and was serving some fabulous fare with a section of seating located right on the beach in front of the venue.
British Airways has installed the i360 viewing tower along the beachfront. At 162m high, it was designed by the same people who designed the London Eye and it offers 360 views across Brighton and it's surroundings, and even to the Isle of Wight on a clear day. To add a touch of class to your experience, they have included a bar so that you can admire the view over a Brighton Gin and Tonic or English sparkling wine. Tickets start from GBP14.85, flights take approx 25mins and depart every half hour.
A beach town wouldn't be the same without the classic activities, so of course you will find crazy golf, basket ball, roller skating plus a slightly less traditional zip line to keep you busy.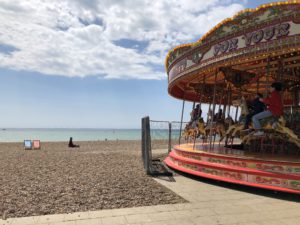 The Lane Ways
The heart of Brighton is where you will find the iconic Lane Ways. This is a myriad of lanes all connected where you will discover local artisanal shops, jewellers, sweet shops, bakeries, clothing, homewares and everything in between. As you turn each corner you will find buskers of all genres or a hidden jazz bar or packed out pub. There is always something very festive about this area, usually the lanes are decorated with bunting, you're likely to pass a group of girls out celebrating a hen's party, some tourists carting suitcases and locals walking their dog…it's just a very cool place!
Don't try to look for the fly-on-the-wall documentary famous Choccywoccydoodah though, sadly we noticed that it had ceased trading on 10 May 2019 – the day before we visited
Fancy something a little different? Try the Ghost Walk of the Lanes. Departing from the Druid's Head pub in Brighton Place, it runs every Wednesday to Saturday from 7.30pm. Actor and storyteller Rob Marks will lead you in full Victorian costume and tell of eight ghost stories of The Lanes. You will also explore the history of the old fishing quarter. The walk lasts approximately 70mins and a standard Adult ticket is GBP8. No booking required, just turn up!
Details at : www.ghostwalkbrighton.co.uk.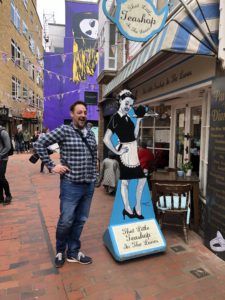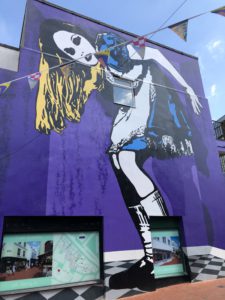 The Royal Pavilion
As you are wandering the streets of Brighton it is likely that you will stumble across the Royal Pavilion, even if not intentionally. It's an impressive building which makes you question where you are for a minute. A magnificent piece of architecture nestled amongst beautiful lush gardens, in the centre of the town. It was the seaside Palace of the Prince Regent (George IV), transformed by John Nash between 1815-1823 into one of the most exotic and head-turning buildings in the British Isles.
The Pavilion is home to furniture and works of art including original pieces HM The Queen has lent, alongside a dazzling display of Regency silver-gilt.
Standard adult ticket starts at GBP15 with discount available if you pre-book online. Residents of Brighton and Hove can enjoy half price admission with ID.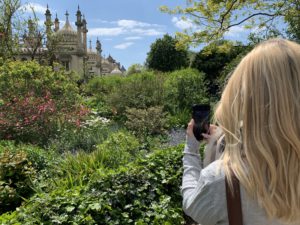 Brighton, Hove and it's surrounds
Whilst there is lots to do in Brighton itself, you don't have to travel far to be surrounded by the lush green landscape of the South Downs National Park. This offers numerous hiking trails, historic walks and wineries…yep, now we're talking my language! England is making a name for itself with its wine making and craft beers which has been a fast growing industry. Recognised as producing sparkling wine not too far off the quality of it's neighbouring country's Champagne, this is definitely something to try whilst in the region. If you happen to be visiting in March, check out the annual Sussex Beer Festival.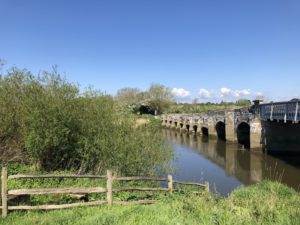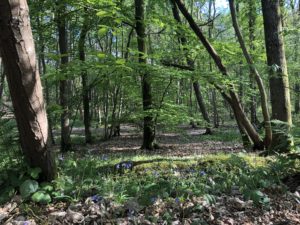 Did I mention fish and chips?
Hopefully this has given you a good taste of what Brighton is all about. For more details on tickets and opening times etc, www.visitbrighton.com is a good place to start.
You could stay for a month and probably still not work your way through all the bars and restaurants, although I'm sure you'd have an awesome time trying!
If you have been to Brighton already, please let me know what your favourite thing to do is?
Cheers!
Wendy A