Why compare cruise lines?
I have started to write many cruise comparison posts, because I'm always being asked 'how do I know which cruise is for me?' – an obvious question with a not so simple answer! It's like saying "I want to go on holiday, where should I go?" Ummm…where to begin!
There are SO many cruise lines in the market today that the last 'compare cruise lines' blog I started was becoming an encyclopedia and I don't think anyone wants to read that! So, I've decided to break the post down into ship sizes, as this is usually a pretty easy starting point for most people in their decision-making process and that way I may actually get this article live!
I've also split the review into specific categories which I think are most important to people. And before you ask, no, I can't give prices because they change all the time and there's no way I could keep up with these, so I've given a price guide instead: Budget, Moderate, High and Premium to give you an idea of where they sit in the market.
I'm starting with Large Ships for this article, the others to follow…(feel free to subscribe to get them straight to your inbox).
Each review has a URL link at the end so you can click through to the company website to view more photos as it's also challenging to give a true representation of a cruise line with just one photo, but I don't have copyright for all the cool pics you want to see!
The ship size categories
I've categorised the ship sizes as following:
Large Ships – from 2,000 guests and above
These ships represent the majority of the market today, they are full of activities, innovations, Broadway-style theatre shows, game shows, a myriad of restaurants and bars, are kid-friendly (excluding the new Virgin Voyages) and have casinos. You will never be bored on these ships and they have cabins suitable for just about every family configuration and type of cruiser. They mostly have at least 2 swimming pools and impressive spa/relaxation areas and gyms.
The drawback to this is that you are travelling with a LOT of other people (up to over 6,000), which some cruisers just don't like. Consequently, it also means you will have to get used to queuing too, no matter how well-designed the ship is. Boarding and disembarkation, tender operations, meal times in restaurants…you can't really avoid the queues. The larger ships can't get into the smaller ports either, so you will either be docking some distance away from your destination or you may have several tender operations.
Mid-size Ships – from 400 guests to 1,999
This category is mostly a more boutique and higher-end type of cruise line. Whilst the number of restaurants and activities are more limited, and generally they are not so 'child-friendly', the quality and service is generally better and a lot of thought has gone into the design of absolutely everything in order to make the most of the space they have.
The smaller ships are also able to get into the smaller ports, and often have itineraries which include overnights or late nights to allow guests to enjoy the destination to the fullest.
Guests generally comment that they have a more family-feel on board and get to know their fellow passengers and crew better, as they are not just 'a number' as on the larger cruise lines.
Small Ships – below 399 guests
This is a rapidly growing sector of the market, mostly in the expedition field. It feels like everyone is building an expedition ship at the moment, not just the regular cruise lines, but even hotels are getting in on the action! They will generally only have one main restaurant and a cafe. Entertainment is very limited, often a few musicians and a specialist lecturer, specific to the region you are cruising. Guests get to know one another very quickly and will tour with the same group daily. Service is exceptional and the price tag matches.
Star ratings
To make things a little more challenging in the cruise world, ships are not given a star-rating, so it can be hard to know which line is right for you when don't really know where they sit in terms of standards and service. I've reviewed them all giving an 'assumed' star rating to make it easier for you, but please note this is my opinion/general opinion rather than an official classification.
What about destination?
Destination can absolutely have an impact on a cruise's demographic. For example, New Zealand attracts an older market than the South Pacific which is more family driven. Alaska also attracts an older market, regardless of the brand, presumably due to the cost factor in flying a family that far. South America and Galapagos likewise.
The ships within the same class brackets tend to cover the same ports and similar itineraries. There are a few exceptions to this, for example NCL has the monopoly on Hawaii island cruises, and only ships under approx 1,500 guests (I can't track down the exact number) are permitted to dock in Cuba – not that any ships are docking in Cuba anymore, but that's a whole other story…
Some cruise lines will also offer longer cruises than others and some do World Journeys. Generally you will find the 'boutique' cruise lines (mid-size/small ships) to do the longer sailings, although Princess and Cunard are also known for their World Journeys. Royal Caribbean, Celebrity Cruises, P&O, Carnival, NCL will generally do less than 12 day sailings aside from their repositioning cruises and P&O Australia does a lot of 3-5 night sailings. It's also worth noting that when ships do 'sampler' cruises or shorter than their usual, this will again attract a different market from their norm, as the lower price point opens them to an audience that would usually not be able to afford them.
Ok, let's get on to the reviews…!
Compare Cruise Lines – Large Cruise Ships
(listed alphabetically)
Carnival Cruises
Guest Profile: Families, couples, hen/bucks parties, guests looking for fun, wanting to party late into the night, budget cruisers.
Assumed star rating: 3
Capacity: From around 2,000 up to their newest at 6,600 guests
Price bracket: Budget
Inclusions: Food in main restaurant and buffet, selected food 'spots', plus 24hr pizza and ice cream/frozen yogurt. Non-specialty tea/coffee served in the main dining room
Highlights: Great for having a party with a group of friends! Lots of activities for the kids, and big kids (some charges apply).
Drawbacks: This isn't a ship for RnR or a quiet romantic getaway. Lots of extra charges when on board, including almost all drinks. They boast the largest ship in terms of guest capacity, but the vessels are not the largest… I'll let you do the math.
Destinations: With 26 ships, they cover a fair amount of the world, with many being US/Caribbean based.
Entertainment: There is no shortage of entertainment on these ships. Expect production shows, parties, live music, DJs, pool parties, games, activities, sports etc. They love their water slides and water parks too, along with various other deck sports.
Dining: Main dining room and buffet. About half of their specialty outlets (Cafe style) are included, the other specialty restaurants are additional cost.
Shore Excursions: Available at cost.
Kids Allowed: Definitely. Extensive kids program plus babysitting services.
Casinos: Yes.
Dress Code: This is the time to bring those party outfits, fancy dress costumes, pretty much anything other than a Tux!
WiFi: Yes, at a charge, packages available
Age of fleet: Their oldest was built in 1990, and they have built at least one every year since then.
Website: www.carnival.com
---
Celebrity Cruises
Guest Profile: Marketed as Modern Luxury, Celebrity has an appeal to the more sophisticated guest, looking for a classy ship with fewer children, a strong focus on dining experiences and options to be as active or relaxed as you wish. The age profile can change depending on location (older market for Alaska, younger in Europe) but you're going to find couples, young-at-heart retirees, modern day families and those looking for a more refined cruising experience.
The Edge class is a different product from the older ships, even when "Solsticised", literally turning cruising inside out, I've yet to hear a negative word about them.
Assumed star rating: 5
Capacity: 2,900
Price bracket: Moderate
Inclusions: Entertainment, activities, main restaurant, cafe, buffet, tea, coffee, water, juices, ice cream
Highlights: These are beautiful, sophisticated ships, without the gaudy bling often associated with 5 star cruise lines. The specialty restaurants are worth the cover charge, the spa is gorgeous and don't miss the silent discos. Their expedition ships in the Galapagos are a different experience from the rest of the fleet, but definitely worth checking out for a holiday you will never forget. I also really love the real grass lawns on the top deck where you can relax with a picnic or watch a movie.
Drawbacks: There is quite a difference between the older ships and the newer Edge class, almost like a different cruise line. Do your research to check you're getting what you expect.
Destinations: Pretty much everywhere, with some great itineraries including overnight and late night stays (small expedition ships located in the Galapagos too).
Entertainment: Production shows, guest entertainers, trivia, silent disco, nightclub, live music in bars, interactive restaurants, sports deck, glassblowing show, outdoor cinema, lawn bowls.
Dining: The main dining rooms are beautiful. Add an extensive buffet, cafes and many specialty restaurants you won't be short on choice. In-room dining is complimentary between 6am-11pm. The Aqua Class and Suite Class guests have access to a specialty restaurant with a focus on healthy eating.
Shore Excursions: Many options available, all at a cost.
Kids Allowed: Yes, they have a good kids club, although the brand doesn't promote families as their key market, so you won't find as many as you would on a Carnival or Royal Caribbean, nor many child-specific activities outside of the club.
Casinos: Yes.
Dress Code: They removed 'formal' nights a couple of years ago and switch to 'chic', so you no longer need to pack that tux or cocktail dress. Smart evening wear is enough.
WiFi: Yes, they have various packages, all at a cost.
Age of fleet: The oldest ship was built in 1999, the newest just this year…and continuing to build.
Website: www.celebritycruises.com
---
---
Costa
Guest Profile: Families, young couples, those on a budget, who like a lively cruise with lots of entertainment, but no included bells and whistles. Very European market, Italian is the main language spoken on board, there will be very few English speakers, although they do have a native English Guest Relations crew member who will contact all English speakers to offer their service if anything is needed. This is a very colourful cruise line, there is nothing subtle about the interior design!
Assumed star rating: 3
Capacity: The smallest of the fleet takes 1,800 guests, the largest 6,500
Price bracket: Budget
Inclusions: There's not too much included, other than main meals and entertainment.
Highlights: Great entertainment, lively atmosphere, music everywhere
Drawbacks: You need to pay for drinking water, they have a package which is worth it, but I don't know of any other cruise line that charges for tap water! Your cabin will also only be serviced once a day, don't expect turn down service. The buffet is only open for short periods over meal times, don't expect to get brunch, afternoon or late-night snacks, there is no free food available at these times. Same goes for tea and coffee, the machines are only available at breakfast, and between 4-5pm and switched off in between. Not great for us tea-guzzling Brits!
Destinations: The fleet of 12 ships covers the majority of the world, but specialising in Europe
Entertainment: Plenty of shows, live music, trivia, game shows etc, but note that they are all held in Italian, so could be challenging participating if you don't speak the language.
Dining: Main restaurant, buffet and charged specialty. They only have fixed times for dining in the main restaurant and it's shared tables only.
Shore Excursions: Available at cost.
Kids Allowed: Yes, kids clubs and group babysitting services.
Casinos: Yes
Dress Code: Casual for the day, dress to impress at night. They will have an Italian night most cruises too, so bring something green, red or white.
WiFi: Yes, various charged packages available.
Age of fleet: The oldest was built in 1993, they're currently still building.
Website: www.costacruises.com
---




Cunard
Guest Profile: An older market, and although this is a quintessentially British cruise liner, they seem to attract more Americans. You need to like dressing up, they practically invented the formal night. These ships suit the discerning traveller, not looking to party late, the ship is pretty quiet after 10pm. They do offer a myriad of classes however, such as bridge and knitting… Class is important on board too, you will have access to different restaurants and facilities depending on what type of cabin you have. The original cruise line, this is about as traditional as it gets.
Assumed star rating: 5
Capacity: Queen Mary II 2,695 guests, Queen Victoria 2,081 guests, Queen Elizabeth 2,547 guests
Price bracket: Moderate to high
Inclusions: Restaurants as per your cabin type, 24hr in room dining, afternoon tea, activities, entertainment, Insights lecture program, kids club and self-service laundry.
Highlights: These ships are beautiful, they are classy and luxurious and everything you expect a traditional five star cruise line to be. The service is excellent, as is the food. Most cruise addicts say they have the best Afternoon Tea at sea.
Drawbacks: You will find that you may be restricted with which restaurants you can use, depending on your cabin category, there is a distinct class hierarchy here. You will also have fixed dining times/tables too, which most other cruise lines have become more flexible with. Don't expect to be partying late into the night, it's fairly quiet after about 10pm. You also need to have a more formal wardrobe than you may be used to/want. Some venues won't permit entry without a tux.
Destinations: Designed as ocean liners, these ships are built to glide through the roughest waters with ease. They do the longer itineraries, covering most of the world, with transatlantic obviously being their specialty. They also do regular world cruises.
Entertainment: Expect a high standard of entertainment on board, covering everything from Broadway style shows, live music, dance classes, quoits, shuffleboard, fencing, bridge, crafts and topical lectures.
Dining: Your main restaurant will be allocated as per your cabin category. Buffet available for all meals too, plus afternoon tea daily. All specialty restaurants are additional charge. In-room dining is complimentary 24hrs, menu varies depending on cabin category.
Shore Excursions: Lots of unique experiences included. All excursions are charged.
Kids Allowed: Yes, free kids club.
Casinos: Yes
Dress Code: Smarter than your usual cruise. Formal nights included, but even outside of this people will be dressed up very smartly. Evening dress comes into play from 6pm and expect glares from other guests if you don't adhere to this!
WiFi: Internet packages available, some free hours included for guests in higher level cabin categories
Age of fleet: Queen Mary II 2003, Queen Victoria 2007, Queen Elizabeth 2010
Website: www.cunard.com
---
Disney Cruise Line
Guest Profile: Contrary to popular belief, Disney is not just for kids. This is a five star cruise line, aimed as much for adults as kids, with several adult-only areas. If you have ever stayed in a Disney hotel, you will be closer to the truth. They are service oriented, offering a plush luxurious surrounding with a fun twist. There are several characters around the ship you can have your photo taken with, but this isn't a floating Disneyland, you will only find one ride/slide on the ships.
Assumed star rating: 5
Capacity: 2,400 guests
Price bracket: Premium
Inclusions: For the higher price point, people talk about how much you get included…although I can't see that too much more is offered than the majority of other family cruise lines. All meals, taxes, and soft drinks are included, entertainment and activities and meeting the characters are part of your fare, but aside from the sodas this is the same as Royal Caribbean. What you are getting is a five star product and higher level of service however, and you will notice this as you walk around the ship and within your cabin.
Highlights: Meeting the Disney characters, a great kids club, an adult-only area and their private island Castaway Cay. Also, they have adult-only dining venues to enjoy a romantic and relaxed fine dining experience whilst the kids are being looked after.
Drawbacks: To be honest, I've trawled many review sites and I really can't find any legit complaints! They all say that it's definitely on the 'pricey' side, but that aside, the reviews are all pretty fantastic!
Destinations: Having just 4 ships, they are a little more limited with where their ships go. They have never sailed in Australian waters and from the itineraries I can see, they stay mostly in the US/Mexico/Caribbean/Alaska region, although do offer some Med and Baltic cruises too, just not as many as other cruise lines.
Entertainment: You will certainly not be short on entertainment on these ships. Expect some of the best production shows, such as Beauty and the Beast, Character experiences, deck parties, live shows, night clubs, lounges and special event cruises such as Marvel and Star Wars.
Dining: These restaurants all have fab names and are themed to the max! The favourite seems to be Animator's Palate where you dine with characters, surrounded by drawings from each of the movies. Or maybe try Rapunzel's Royal Table on Disney Magic where you will dine in a castle ballroom, eating themed foods and joining in with singing and dancing from the movie 'Tangled'. The 'Duck-in Diner' will offer you shawarma and burgers, or try Pinocchio's Pizzeria, or Cabana's Restaurant for the full buffet experience. There are adult only restaurants if you are looking for a more relaxed dining experience!
Shore Excursions: Book before you sail and receive tickets in your room, all charged. They also offer Accessible travel excursions which are step-free which is fabulous.
Kids Allowed: Absolutely…and big kids too!
Casinos: No
Dress Code: Cruise Casual is accepted most of the time. They will also have an optional 'dress up' night if you want to bring your black tie (or Prince/Princess outfit is optional!) plus they will have a theme night such as Pirate night you can dress appropriately for. The adult-only specialty restaurants do require a little more than the 'casual' attire too, so bring a dress or shirt/pants for that.
WiFi: Yes, chargeable. They also have complimentary app which allows you to send messages to your travel buddies and a Wave phone to text each other on board and on their private island.
Age of fleet: Disney Magic 1998, Disney Wonder 1999, Disney Dream 2011, Disney Fantasy 2012
Website: www.disneycruise.com
---
Can't decide where to cruise to? Check out my post,
---
Holland America (HAL)
(Both in Large & Mid-size Ship Categories)
Guest Profile: Originally a ferry between The Netherlands and the USA, fast-forward 146 years and they're now a premium mid-size cruise line. HAL's CEO says they don't target a specific demographic, but more a 'psychographic' of people who enjoy exploring, good music and good food. In practice, whilst they are trying to appeal to a younger market, what you will actually find is an older crowd on board, over 60yrs. During the summer months they have some kids, but there are also cruises which are more 70-80yrs as the average.
Assumed star rating: 5
Capacity: Between 1,258 – 2,666 guests
Price bracket: Moderate to High
Inclusions: Not much more than your usual. They have recently introduced an 'inclusive' beverage package for approx $45 per day per person. The up-sells are quite frequent and all specialty restaurants come at a charge.
Highlights: These are classy ships with great live music and destination intense itineraries. The level of service is always high and comfort is a priority. Specialty restaurants also highly commended.
Drawbacks: Don't expect to be partying late into the night, it will be a ghost town by 11pm. Not many activities outside of the live music and food/wine demos.
Destinations: HAL are small enough to get into some of the smaller ports and they really utilise this. Cruises are longer, a little more off the beaten path, and some of the ships have their own zodiacs to explore further into harder to reach destinations.
Entertainment: Whilst they do have a few production shows, it's not their strength. They seem to be more focused on their live music, which is fabulous, and in many lounges/bars. They also have regular Guest Entertainers in the main theatre. You will also find cookery classes, wine tasting and some lectures.
Dining: Main dining room (traditional and any time dining), buffet and room service as standard. In addition to this you have the Dive grill to order burgers etc, they'll give you a buzzer and you can relax until your food is ready when they buzz you to collect. Canaletto is the Italian specialty restaurant which has a cover charge (approx $10 at time of writing), Pinnacle Grill is the steak restaurant, at approx $30pp.
Shore Excursions: They offer some great excursions, where everything is arranged for you (aimed maybe at the lesser well travelled guest), all at a cost.
Kids Allowed: Yes, but you won't see many and reviews of the kid's club are mixed…
Casinos: Yes, this will be the liveliest place at night
Dress Code: Casual during the day, smarter in the evenings, particularly in the main dining room and specialty restaurants. They have formal nights which they call 'Gala Nights' requiring 'Gala Attire', but this is optional if you don't use the main restaurants.
WiFi: Yes, at cost
Age of fleet: They currently have 14 ships, built between 1993 – 2018
Website: www.hollandamerica.com
---
MSC (Mediterranean Shipping Company)
Guest Profile: MSC is currently the largest privately owned cruise company, which started as a shipping company and continues to be a giant in this sector. As an Italian company (registered in Switzerland), it's to be noted that English is not the first language on board and not all crew are fully-proficient in English. Shows are also bi-lingual, or avoid much talking to have a wider appeal. They target families, young people, and couples, and are one of the few cruise lines to allow guests to join/debark in the majority of their ports, meaning guests can truly tailor their itineraries.
Assumed star rating: 4-5 star (seems to vary across ships and opinions)
Capacity: from 2,679 – 5,646 guests across 19 ships
Price bracket: Affordable/moderate (known to have great deals/sales)
Inclusions: Weirdly, tap water is NOT included on MSC! (I've heard they can include it for Brits who expect it, ship-dependent). Meals and entertainment are included. You can also choose to make your cruise 'all-inclusive' for an additional cost which will then include all drinks, specialty restaurants, select excursions, WiFi, laundry and more.
Highlights: They have recently partnered with Cirque du Soleil for spectacular shows on board, children under 12 sail for free (excludes taxes etc), great for a fully international experience. This is a good value for money option, you can get some great last minute deals.
Drawbacks: Not many inclusions in cruise fare. Limited dining options compared to some of their competitors. Whilst they claim to have many loyal guests, sadly they do seem to receive consistently negative feedback…however this could be due to passengers not researching the cruise line before sailing and having skewed expectations. Also, as an English speaker you may find some language frustrations.
Destinations: Year-round in the Med and Caribbean and seasonally in Northern Europe, South America, Southern Africa, China, Abu Dhabi and Dubai.
Entertainment: Theatre shows, sports & bowling diner, 4D movies, live music in bars, library, race car simulation.
Dining: Main restaurant, buffet, sushi/Japanese, Tex-Mex, Asian, Sports Bar American diner, Italian
Shore Excursions: Yes, at cost
Kids Allowed: Yes, kids club and group baby care services.
Casinos: Yes
Dress Code: Not strictly enforced, mostly casual. They do have Gala nights, but not many people seem to adhere to it and jeans appear to be acceptable in the dining room even on these nights.
WiFi: Yes, at cost.
Age of fleet: From 2001 to 2019, with one built almost every year, and 2 due out in 2021 and 2023.
Website: www.msccruises.com
---
Norwegian Cruise Line (NCL)
Guest Profile: I usually pitch NCL as the closest competitor to Royal Caribbean in terms of their target market. This is truly a family and multi-gen cruise line, with something for everyone. Their older and smaller ships have a greater appeal to the older market and people preferring a less crowded experience, and the newer mega-ships are a hit with kids and big kids alike with all of their innovative activities. They also have single studios for solo travellers and their lower pricing make it more affordable for young families.
Assumed star rating: 3-4
Capacity: The smallest are around 2,000 guests to the largest at 4,394 guests
Price bracket: Affordable
Inclusions: Meals, tea, coffee, water, kids club
Highlights: The activities and entertainment are a big draw card for these ships, plus the value you are getting for the lower price point. The 'Freestyle' dining is also very popular for guests wanting to dine in their own time, dressed how they like.
Drawbacks: The main criticisms I hear is on their nickel and diming. Seems everything has a gratuity or additional charge to it. These probably aren't the ships for you if you're looking for a peaceful romantic cruise either.
Destinations: With 17 ships they are covering most of the world and the usual routes.
Entertainment: NCL offers extensive entertainment to its guests. The newer ships have activities such as water slides and race tracks, others have virtual reality wonderland and cooking classes. The shows are Broadway-style in the theatre as well as interactive shows, bean-bag cinemas, theatrical dining and comedy.
Dining: There are plenty of restaurants, cafes and snack venues on these ships, with every taste catered for. In room dining is complimentary except between midnight-5am, and you can order fresh pizza to be delivered to you anywhere on the ship for US$5.
Shore Excursions: Yes, at cost.
Kids Allowed: Yes, complimentary kids club and charged babysitting services.
Casinos: Yes, large casinos.
Dress Code: Casual. Guests can choose to dress up in the evenings if they wish but it's not required.
WiFi: Yes, at cost.
Age of fleet: 17 ships spanning 1999-2019
Website: www.ncl.com
P&O Cruises Australia
Guest Profile: P&O is the only cruise line to call Australia its home year-round. They have been cruising the region for 80 years and their guests are made up of 47% couples, 31% families and 22% are groups of friends (they are popular with hen/bucks parties). They are part of the Carnival group and a sister to the UK version of P&O, although note that the products are very different.
Assumed star rating: 3
Capacity: Currently, 2 of their 3 ships are less than 2,000 guests, but I've kept them in this Large Ship category as both are leaving the fleet shortly, to be replaced by larger ships of approximately 3,000 guests.
Price bracket: Budget
Inclusions: Main meals, tea, coffee and water.
Highlights: If you enjoy partying and dressing up for theme nights, this is the cruise for you! There is also an adult-only area to get some peace and quiet!
Drawbacks: Be prepared to leave the ship with a large bill, there are a lot of extra charges once on board, including many activities which are complimentary on most other cruise lines.
Destinations: Being home-ported in Australia, the itineraries are all local, around Australia, NZ and the South Pacific.
Entertainment: Evening entertainment includes theatre shows, DJs, theme nights, live music and activities include water slides, rock climbing, swimming, games, laser tag and karaoke.
Dining: There is a main restaurant and buffet plus 2 specialty restaurants included in your fare. They also have a charged room service menu. There are a further 5 specialty restaurants which have an additional charge plus several snack outlets.
Shore Excursions: Yes, at cost
Kids Allowed: Yes, kids club included plus charged baby-sitting services
Casinos: Yes
Dress Code: Casual, party wear and theme nights
WiFi: Yes, charged
Age of fleet: Pacific Dawn built 1991, Pacific Aria built 1994, Pacific Explorer built 1997
Website: www.pocruises.com.au
Photo courtesy of CruiseCritic.com
---
---
P&O Cruises World Cruising (UK)
Guest Profile: These ships are quintessentially British, with mostly English passengers. There is a relaxed and casual feel on board, this is traditional cruising with a modern twist. There are single cabins for solo travellers and aside from their 2 (soon to be 3) adult-only cruise ships, the rest are all very family friendly. The adult-only ships do the longer more exotic itineraries and world cruises, therefore they attract an older market. Everything is priced in British Pounds on board.
Assumed star rating: 4
Capacity: Aurora 2,258, Oceana 2,419, Arcadia 1,904, Ventura 3,727, Azura 3,737, Britannia 4,406, Iona 6,600
Price bracket: Moderate
Inclusions: All meals, afternoon tea, tea, coffee & juice at select times, some fitness classes, necessary shuttle buses, flights and transfers. You can purchase alcohol packages.
Highlights: If you like the English style of service, and having tea in your cabin, and daily afternoon tea, this is the ship for you.
Drawbacks: The food in the main dining rooms doesn't seem to rate too highly. Although these are very family-friendly ships (excluding the adult-only ones), they don't have the same activities as its competitors, there are no water parks or rock climbing walls here.
Destinations: All but one of their ships depart from the UK. Their itineraries are mostly Western Europe and Western Med.
Entertainment: deck games including football, basketball, deck tennis, shuffleboard, quoits, dance classes, cookery classes
Dining: Main restaurant and buffet are complimentary, the six specialty restaurants (including Marco Pierre White's) are additional cost, as is room service. Afternoon tea is complimentary however (and can be taken in a choice of venues). Expect to find Marmite, English wines, Devonshire cream and other local specialties on offer. All cabins have tea and coffee making facilities.
Shore Excursions: Available at additional cost
Kids Allowed: Arcadia and Oriana are adult only. The others are child friendly and have complimentary kids clubs.
Casinos: Yes
Dress Code: Casual during the day, but expected to be more formal in the evenings, especially in the specialty restaurants. There are usually 4 formal nights per 2 week itinerary so you may want to pack that black tie. Tracksuits are not permitted at any time.
WiFi: Available at cost
Age of fleet: Build dates Aurora 2000, Oceana 2000, Arcadia 2005, Ventura 2008, Azura 2010, Britannia 2015, Iona 2020
Website: www.pocruises.com
---
Princess
Guest Profile: Although they often try to portray themselves as a family cruise line, you are more likely to see a much older guest on board these ships. They are very 'accessible' which helps with walkers/frames and wheelchairs and have quite an older style of decor, even in their newer ships.
Assumed star rating: 4
Capacity: Pacific Princess is just 672 as the baby of the fleet, the largest is 3,560 guests
Price bracket: Moderate
Inclusions: Meals, tea and coffee, activities
Highlights: I personally think they have the best pizzas! Lots of variety in their Horizon 'marketplace' style buffet restaurant too. They also have a lovely adult-only retreat area with giant jenga and live music which is great.
Drawbacks: There is nearly always a huge queue for the lifts, and the buffet gets crazy at peak times. I'm also not a fan of the glitzy gold/purple colour schemes. Everyone is in bed by 10pm too.
Destinations: They cover most of the world and also do the longer itineraries, including World Cruises.
Entertainment: Production shows in the theatres, guest entertainers, games with the Cruise staff around the ship, casino, trivia, live music in several bars, deck parties "Love Boat" style, basketball court, mini golf, shuffle-board.
Dining: Main Dining Room (traditional and any time dining), Horizon buffet, 24hr room service, International Cafe (24hr on most of the ships), pool grill plus numerous specialty restaurants, most with a cover charge. As previously mentioned, I highly recommend the pizza restaurant which is complimentary.
Shore Excursions: Numerous, all charged
Kids Allowed: Yes
Casinos: Yes
Dress Code: Casual during the day, you'll need to dress up a little more for the Main Dining Room or specialty restaurants and they also have formal nights. The buffet is casual all day.
WiFi: Yes – charged
Age of fleet: From 1995 to 2017
Website: www.princess.com
---
Royal Caribbean International
Guest Profile: A large target audience, from couples, to families, to older generation to groups of younger people, they pretty much have something for everyone. The key to your research is in the ship itself, as the larger ones attract younger people and families than the smaller ones do. Single studios are also available on the newer ships.
Assumed star rating: 4
Capacity: Varies, from Empress of the Seas at 2,270 up to Oasis/Allure of the Seas at 6,780
Price bracket: Affordable, you can find many great deals as early bird and last minute specials
Inclusions: Meals, tea/coffee, cordial drinks, all activities. Drinks packages are available at cost.
Highlights: If you're looking to do something a little adventurous, these are the ships to be on. The larger ships offer ice-skating, dodgem cars, roller skating, iFly skydiving, FlowRider surf simulator, a viewing capsule that takes you 90m high, water slides, zip lines, rock climbing, mini golf, basketball, table tennis…and more! They also have great family accommodation and single cabins.
Drawbacks: The larger ships are massive…which does mean a lot of people on one ship…which means expect queues, particularly in the buffet at meal times and for tenders in ports.
Destinations: They have a fleet of 26 ships, so they are able to cover most of the world, most of the time. However, the larger ships are more limited in where they are able to go, so you'll find them mostly in the Caribbean. They don't tend to do cruises much longer than 2 weeks either, so good if you want more of a first-timer 'taster' cruise of a week or less, but you won't find anything remote on these itineraries. Royal Caribbean also owns 2 private islands, Perfect Day at CocoCay and Labadee, which are included in most Caribbean itineraries.
Entertainment: These are one of the best cruise lines for Entertainment, they have just about everything! Incredible Broadway shows, acrobatic shows, ice shows, aqua shows, every type of game show, bingo, trivia, cookery shows, art auctions, interactive dining, guest entertainers, live music everywhere, pool parties, deck parties, theme parties…and that's without even mentioning all the activities which I wrote about in 'Highlights' above.
Dining: You are never short of dining options either. Aside from the usual Main Dining Room and Windjammer buffet, you have countless other food outlets, from hot dog stands to 24hr pizza cafe, in room dining, and a variety of specialty restaurants, which are ship dependent, but most will include Chops steak restaurant, Giovanni's Italian and Izumi's Asian fusion which have a cover charge. Jamie's Italian is a favourite too as well as Wonderland which is an exciting degustation of weird and wonderful creations.
Shore Excursions: They have plenty of excursions on offer, all charged
Kids Allowed: Yes, the kid's club is highly rated
Casinos: Yes
Dress Code: They will have one or two formal nights per cruise (length dependent) and maybe a themed night, but otherwise it's a fairly casual cruise line, although a collar and no thongs/flip-flops for the main restaurant is required.
WiFi: Yes, VOOM internet claims to be the fastest at sea, charged by the hour/day or purchase a package.
Age of fleet: Empress of the Seas built in 1990, to Symphony of the Seas in 2019
Website: www.royalcaribbean.com
---
---
Virgin Voyages
Guest Profile: They label themselves as 'rebellious luxe experience', a high-end cruise line for adults-only, designed by people who intentionally have no prior cruise experience, and a strong focus on gender equality and breaking down service stereotypes (expect to see tattooed crew and female captains). So basically a trendy younger professional crowd, with high disposable income.
Assumed star rating: 5 star
Capacity: 2,770 guests
Price bracket: Premium
Inclusions: This is called a 'more inclusive' cruise line, with all meals included and sodas. Alcohol is still charged. Not much different from the others really, aside from sodas.
Highlights: This is a ship with a difference, a completely different look and feel from the norm. Maybe you fancy a change-up? If you want to visit the only tattoo parlour at sea, you can find it here. The 'Sea Terraces' have hammocks and fitness is a big focus on these ships.
Drawbacks: They have the smallest pool I've seen on any ship, and just the one…truly bizarre. From all the reviews I've seen, people aren't all that enthused with the cabins either – lack of storage space and tiny bathrooms.
Destinations: With just the one ship at the moment, this is obviously limited. They are mostly focused on the Caribbean and Med.
Entertainment: They have gone creative with the names of their entertainment, which doesn't really tell us much! An acrobatic show was put on for the initial reviewers, from there it seems to be a mix of theatrical dining, seductive red rose themed shows, DJs and discos.
Dining: They have over 20 eateries on this ship, catering to every dietary style (lots of vegan options and bone marrow-esque dishes). They say they don't have a buffet, but essentially they do, plus the usual restaurants (but no 'main' restaurant) and several snack outlets. In room dining is also included 24hr.
Shore Excursions: Yes, all charged
Kids Allowed: No, adults only
Casinos: Yes
Dress Code: There is no dress code
WiFi: Complimentary – although you need to pay for streaming
Age of fleet: Launched 2020 with 2 more due in 2021 and 2022.
Website: www.virginvoyages.com
Compare Cruise Lines – Wrapped Up
So hopefully being able to compare cruise lines in this way has helped you decide which is the best cruise for you. Maybe make a list of what you want from your holiday and then check which company offers that experience or has those facilities for you. There are always many variables and although selecting the cruise line is the first step, you do need to then go further into selecting the correct ship within that brand that will be suitable for you. As mentioned before, sometimes the smaller older ships in the fleet are very different from their newer larger ones, and the type of people on them will be different too, so make sure you do your homework, or better yet, go see a cruise specialist travel agent to help you.
Have you cruised before? Let me know your opinion on the brand you cruised with. Also, if you disagree with me, please let me know – I'm happy to be corrected if wrong!
If you have found this post helpful, please do share it with friends 🙂
Thanks for reading – see you next time!
Wendy A x
Pin to read later…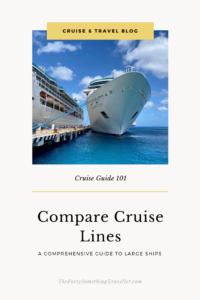 More ships. More fares. More fun. Find your next cruise on Cruise Critic