You may be an expert on how things work on board as far as being a guest goes, but what about behind the scenes? If you are a regular cruiser, you've probably seen many production shows, you'll have walked into a theatre, sat down, watched, and left…but how did that show come to be? Who are the vocalists? How did they get their position? What are their challenges on board?
Being married to a Viking Ocean Cruises Cruise Director (Beven Addinsall), the Entertainment Teams become our on board family. So I thought, who better to interview some of these awesome people and give you exclusive insider information?
I'll do this as a series of interviews, starting with the Viking Sky Vocalist/Company Manager and then continue with some other key positions, and then I may see who else I can bug for an interview across the rest of the ship operations! Watch this space…
Crew Member: Becki Hazel
Meet Becki Hazel. Becki, 29, is from Cardiff, Wales and has been performing since she was 14 years old as a rock artist. She has even had her own record album released, and was the support act for English girl group, The Cheeky Girls.
How long have you worked for Viking?
I got the job in February last year, starting May 2018, so May to November on Viking Star, then I had two months vacation, then onto Viking Sky. The contracts are six months each time, so it's been a year and a half in total.
How did you get the position?
I have an agent in the UK for my performance work and David Michael is the agent for Viking. There's a service called Spotlight in UK which lists all available jobs and so my agent submitted me for the position. I don't know what I'm being submitted for until they come back offering an audition, which can be interesting…! So my agent submitted me for the Viking vocalist position, and I got the email through on the day of my Les Mis audition which I'd been working really hard for, it's literally my dream job, but it didn't go well so I was feeling really down and on the bus on the way home when my agent called me to say I have an audition next week for Viking. I was like, no more auditions please! I was feeling really drained. I'd done loads of auditions and I get through on the singing rounds but then get cut for the dancing rounds, cos I'm not so much a dancer, more a 'mover' so I get cut when it comes to this! So I said that's what will happen, and she said if you don't get this job then I promise I won't put you forward for any more cruise jobs, so I agreed…it was a full 2 days audition process and there were about 200 people. They whittle it down to 2 casts, 2 boys 2 girls, and they created a Viking Sky Cast and Viking Sun Cast. We did everything together, our STCW training and paperwork and everything, so we became really close. Ralph de Klijn (Viking Director of Entertainment) was also at our auditions, which is unusual, he was there for both days. We had a really long panel which was daunting with all the agency staff (Blackburn International Directors and David Michael Directors) and Ralph and they hand selected everyone. We had interviews and everything, it was very thorough and enjoyable and we all become such a close group – they've become some of my best friends. I'm so glad I went to the audition!
What does it mean to be a Viking Vocalist / Company Manager?
The Viking Vocalist role is the entertainment position, doing shows in the theatre, doing team trivia as I did today, being out and about, we're the smiling faces of Viking Ocean ships.
The Viking Vocalist Company Manager reports to the Assistant Cruise Director (ACD) and Cruise Director (CD), so I diverge communication from them to the team. I schedule duties if anything needs doing, I do show reports and I'm the point of contact for the agents on land to ensure the quality of shows stays high and where it should be. This means watching back each of the shows and making notes and we'll have rehearsals before the next show and I'll go through the notes with the team to ensure everyone stays polished and to a high standard. It's a big responsibility, I'm on call all the time, I'm the only one with the dreaded dect phone! Well, I used to dread it, but actually, on this contract when the phone rings it's usually just Beven (CD) or Brian (ACD) calling to say 'hey, how you doing?' *laughs* so it's really not been too bad! It's when the cabin phone goes off that you go 'oh gosh' but the dect phone is ok!
I'm quite lucky because I've got to experience both positions. For my first contract I had a guy called Luke as my Company Manager and he was great so I learnt a lot from him. It's one thing to be a performer, that is the easiest part of the job, even though you need the most energy for it, but arriving is quite overwhelming, walking down the i95 (the main walkway on the crew deck) when you first get on board is like 'oh wow, we're here, and it's the Welcome Party tonight…argh' but actually most of our role is quite structured which I love because I'm a very structured and organised person.
I loved being a vocalist but then when I came back they asked me to be a Company Manager and I was a bit hesitant because I'd seen how much responsibility there was but I also saw how Luke did it and I thought actually, this is a great challenge, I can do this, it fits in with everything I'm good at.
Summarise a typical day on board?
Sea days are usually really busy for us as there'll be quite a lot going on in the theatre. We will be there for meet and greets – we say we're the glamorous bouncers keeping the riff-raff out – although, this is Viking, there's no riff-raff on here!! So we'll do events and host trivia and sometimes do sporting events. We used to do mini golf up on the sports deck which the guests really loved, and occasionally we'll have a show on a sea day, which will be two shows of course, although this makes it a very long day for us so we have to reserve our energies. For guests, sea days are nice and relaxing but for crew it's all hands on deck! But it's great, it's not too bad. We wake up pretty early, I took the early shift this morning so I was very grateful for the hour back. When we get an hour forward on a sea day…oooh, that's just bad luck! We don't have a show today though so that's good. It's Brian's show tonight so we're looking forward to that and obviously we'll be at doors for that too. So that's our normal sea day, being out and about, keeping guests entertained.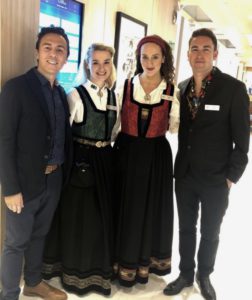 For a port day, well, they vary to be honest. If it's a port with a lot of excursions or has a lot of guests departing at the same time then we'll help the Shore Excursions team to do tour dispatch, so places like St Petersburg or Warnemunde (most guests travel into Berlin). We get a microphone and basically do crowd control and get to dispatch the guests, which we actually really enjoy, it's quite a laugh. The downtime we get is when the guests are off the ship so that's when we can get off and go enjoy ourselves for a few hours, or even do a shore excursion if we want to. We'll come back, do a few sets of doors, do sound check and then our two shows…the days go really quickly. This whole contract has gone really quickly actually, I can't believe we're nearly at the end already!
Rehearsals, ok, so we always do a rehearsal before our shows. I like to do them on the day, to keep it fresh, sometimes if it's a really busy day like a sea day and we can't get a venue, then we'll do it the day before, but that's quite unusual. We'll normally go into the theatre if it's available, otherwise into Torshavn. At the beginning of a contract we'll do a full run as we're still getting used to the band etc, so we'll have the band and tech team do a full run through of the show in the morning. As the contract progresses and we are more familiar with it, we'll just run through to backing tracks, we don't need the band. Sometimes it's really nice to bring something new to the shows, bring your personality to it and keep it fresh. Dan always ad libs, especially with his speeches which makes us laugh.
What are the challenges of your role?
A big thing is trying to remain healthy. We do four main production shows in the theatre, two of each, and they're quite demanding vocally, so for me it's keeping my voice healthy so I can perform consistently. It's important to me that guests watching the 6.30pm show sees the exact same quality of show as those seeing the 9.15pm. Especially because my Mum loves a matinee show, so I just think, what if it was my Mum in the earlier audience, I'd want her to see the best quality! Its little things that make you happy, like dinner between the shows, I'll never have dessert, because every time I have dessert I'll crack in the 9.15pm show, so it's a tried and tested thing, I know I just can't have it so I'm performing at my best.
But also being at sea, the team become your family, we do everything together and it's like we live in a bubble you know, it's brilliant to have that, but also, with families, we're in a contained space and there can be difficulties sometimes. Although, this can actually bring us closer together, they're like my brothers and sisters, we have such a supportive team, especially on Viking Sky, and this has a lot to do with Beven to be honest, he'll love hearing this, haha, but honestly, he's really worked to bring all of us together across all parts of the department. We are one big family and we all need each other. The Variety Performance we do is great in that it brings everyone together, the vocalists, the band and the classical duo. It's really made us so close, and not just as a family of four but a big family.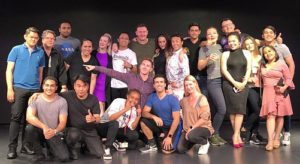 What is the favourite part of your role?
Singing. It always has been. There's something I can't explain, there's a lot of stress that goes into making a performance look effortless. But there's just something about being on stage with the lights, in front of an audience. It's something so special, like when a song just means so much to you and you can stand and share it with other people, it's a feeling that's hard to explain.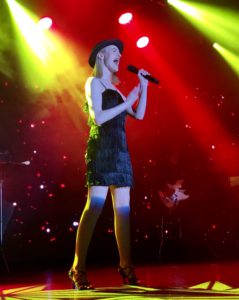 Which is your favourite port and why?
Oh that's so hard, I like different ports for different reasons. Sometimes, I'll think I've never been to this port, and then I go there and I'm like, oh yeah, this is the one with the ice cream shop or the best hot chocolate or something like that which I link it to!
I love Warnemunde, absolutely love it. It just reminds me of a very British seaside town, but with better weather! It's the day that the majority of the guests go to Berlin, so it's the day that most of the crew have the most time off and generally head to the beach. It's the day that I always go a little bit pink *laughs*. I've had the best times there. To be honest, I love Germany and I'd never go to Berlin. I wish we could overnight there it would be so cool. So that's my favourite port on this itinerary. My favourite port, or the port I had the best time was actually Aruba. We had the day off (well, we still had 2 shows that night, but the day was free) and my fellow cast member Megan had read about 'Flamingo Beach' and really wanted to go, so we were on a mission to find it. What we didn't realise was that it's actually a private resort. So we were at the hotel like 'yeah, we wanna go to Flamingo Beach' and they said well you need a ticket, but we have the last two available, so they gave us these tickets and a private boat transfer over to this private island and it was amazing! We spent the day there with all these flamingos and it was just incredible. You sit there and think, this is my job! When we got back to the ship we were like, did that just happen? Did we really just spend a day on a private island surrounded by flamingos? It was totally surreal and just amazing. So Aruba for me is the best!
Tell me a funny story about your time on board?
I've never been a big, what we call 'corpsing' performer. When you're in character and you break it for a second on stage, that's called 'corpsing'. I'm normally quite good at not doing that. For some reason, when something goes wrong, I love it, it makes you think. On Viking Star in ABBA, Patrick, one of the singers, just thought he'd do a costume change. We finished a song and he just walked off and we didn't realise, so we got into a triangle and suddenly realised that Patrick's missing, none of us even looked at each other, but we were so in sync, that I just slotted into his position, and I'd never learnt his choreography, but I matched Luke and you would never have known that he wasn't there! But inside, we were panicking, going OMG is he ok, and then he just decided to saunter back on again! Later we asked him what happened and he said 'oh, I just decided to get changed!' Haha! Normally the mix-ups are costume related. Dan has some really hard changes in Coast to Coast and we've had instances where the track has started and he's not been on stage and we're all trying to work out who is going to sing his part, but I actually live for those moments cos they keep it fresh. It's live theatre at the end of the day and it's what keeps it real and fun for the audience.
What do you miss most about being at sea?
I miss natural daylight in my cabin! The cabin is amazing, we get our own which is fantastic and means we can have people travel with us, which is great. But, I'm a napper, and in our cabins it can be any time of day because we can't see outside, so I've started turning my TV on to Bridge Cam so I can see the outside and that actually works! I also miss being able to sit up in bed and read, because we have bunk beds, so I can't do that.
I miss home and my family and being able to get in my car and just go anywhere. My freedom. You're always on a time schedule on board, you're always checking your watch and the Viking Daily for the next event you have to do, even on a 'day off' you're thinking about the next show and the next thing you have to do. When I go back home it takes me a while to adjust back to being able to do whatever I want, when I want!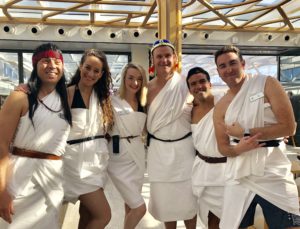 What advice would you give to someone wanting to apply for your position?
Do it! Because, it will be nothing like you think it will be. you will have all these preconceived notions about singing, and I had it. I'm not a 'normal' cruise ship singer, it's not my 'style' or so I thought, but that just doesn't exist. There is no such thing as a 'cruise voice' or a set style. As us four vocalists we all have completely different styles and we are all encouraged to be ourselves, like Maddie who has this incredible whistle, tone, and we're encouraged to riff and belt. The industry has changed so much, my dad used to joke and compare me to Jane McDonald, but it's changed with the times, it's adapting. Even with the stage, the screens, we have these amazing LED screens as backgrounds and we have all these amazing costumes and we get to travel and see the world and you can't believe that this is our job, we get paid to do this! The six months goes by so quickly, it seems such a lot when you're starting, but it goes so quickly and you'll be bitten by the bug, by life at sea, you will get totally addicted!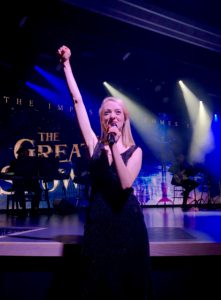 If you could bring 3 'home comforts' on board with you, what would they be and why?
1. I'm a minimalist, so if I bring something with me it has to have a lot of importance. But I would bring Salt & Vinegar crisps, and not European style, I'm talking Walkers Salt & Vinegar crisps, big bags of them! (*a girl after my own heart! WA)
2. Jo Malone Velvet Rose and Oud perfume because I love it.
3. My lucky mascot, my little pink flamingo Gilda who lives in the dressing room with me. When I have a bad day I look at her and remember the best day ever in Aruba!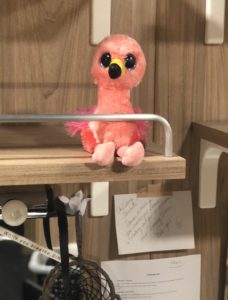 What is your favourite memory so far of your time on board
After the incident (23 March 2019 Viking Sky – google it) we did a Beatles show in the theatre (on the way back to dock) and we were fighting against everything going wrong. We hadn't completed install so we'd never done the show with the band, all the click and track had gone, because of the audio and visual problems, so we had none of that, so it was literally us and the band live, we had to clap them in. We'd never done it before and it was just us and Ogie (pianist/band leader). I'd never had a connection with it before, but the lyrics just meant so much at that time, it was so touching. So now as a group that song means so much to us and we asked if we are able to continue to perform it just us and Ogie, without the rest of the band or backing track, and we have got permission for this from Blackburn International so we're the only ship in the fleet who does this. Not many people were aware that we did that performance, the theatre was packed (there were still about 600 guests on board), and we had life jackets all around the sides, but it was such a special moment for us and the guests, one we will never forget.
The added irony was that just a few hours earlier I was in the atrium playing games with guests. We were playing the backing tracks to songs and the guests had to guess what the song was, and one of them was actually 'Here Comes the Sun'. The guests were telling us how sad they were that because of the incident they wouldn't get to see our last performance, The Beatles…none of us knew at that point that we would end up performing it a few hours later to them.
Thank you so much Becki for your time and being so open for this interview.
Hopefully it gives an insight into the world of a Viking Vocalist for you…did anything surprise you? Do you have any questions on the responsibilities?
Also, do you enjoy reading interviews like this and who else would you like to hear from? Let me know and I'll try to make it happen!
Thanks for reading, see you next week.
Wendy A x