On the basis that we spend about 7-8 months a year on board a Viking Ocean Cruises ship (2 x contracts), they certainly feel like a second home to us. Whilst the contracts are usually on different ships, every ship is almost identical and we even have the same cabin each time, which gives a nice sense of familiarity as soon as we join.
With Viking Ocean Cruises having a very specific demographic, there's a good chance that you may not have ever seen one, so I thought I'd give you some info on our home and let you into our world a little more.
Who are Viking?
Viking is a family run business, founded in 1997 by the Hagens with the purchase of four riverboats in
Russia. In 2000, they strategically purchased KD River Cruises to tap into their experience and gain access to the best European docking locations. Opening a US office in LA was the start of rapid expansion which has them now being the largest River Cruising company in the world with 70 river boats located worldwide.
Following this success they expanded into Ocean Cruising in 2015 with the launch of Viking Star, using their successful formula from the long ships to translate over to their ocean cruise design which makes them unique within this market. The majority of their guests have previously sailed on their river boats and they have an extremely high loyalty rate due to this winning strategy. They currently have 6 ocean cruise ships afloat (Star, Sun, Sea, Sky, Orion, Jupiter), with this number rumoured to increase to 16 by 2027.
It's no surprise that they have been voted the world's favourite cruise line many times over, as well as receiving numerous accolades from Conde Naste Traveler, Travel + Leisure, Cruise Critic etc for itineraries, spa, service, product and dining.
What makes them different
Viking Ocean Cruises promote themselves as the thinking persons cruise line. They have a strong 'enrichment' program which includes a Resident Historian, Resident Astronomer (on Orion and Jupiter, the ships with planetariums) and several guest lecturers. Destination is key, whilst also offering guests a high-value, low-hassle cruise. Immersing guests into the heart of their location through thoughtfully designed and unique excursions, and giving them all the comforts they require to come back to at the end of the day (aside from the warm welcome from the senior officers, I love the hot chocolate and mulled wine offered to guests on return from a chilly day in the Nordics!).
They do not do bingo, don't allow kids, no casinos, no cocktail umbrellas and no on board up-selling. They are sophisticated, classy and homely. No glitzy sparkly chandeliers or bright coloured carpets and wallpaper here, just simple Nordic-style warm interiors with cosy furs draped over deep long sofas and mesmerising electric fireplaces.
They have a philosophy of recruiting staff on personality and then teaching them the required skills for the job and the result of this is apparent in every crew member you encounter. They will anticipate your every need, know your name and remember that you like English breakfast tea with skim milk (brought to me as I've just sat down to start writing this, even though I've not spoken to anyone – thank you Srki!).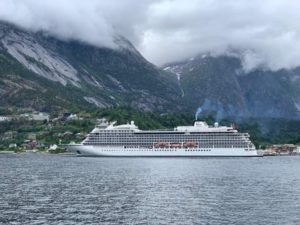 Ship Basics
Length: 745 feet
Beam: 94.5 feet
Weight: 47,800 tons
Guest capacity: 930
Number of crew: 550
Dining
For a relatively small ship you have a lot of options for dining. The main two are of course the Restaurant and World Cafe (buffet).
The Restaurant was designed to be a comfortable relaxed area for guests to enjoy dinner every evening. It offers a destination menu each night and the a la carte menu changes daily. Additionally, you have the classics (steak, chicken, salmon etc) available every night. You don't need to pre book a time, just turn up when you're ready.
The World Cafe has everything that is being served in the restaurant, plus more. Every night you can feast on seafood (prawns, crab's legs, sushi, sashimi) and there are 2 pizza options every day. Salads and cold cuts are always available and on Orion and Jupiter they have a fabulous noodle and dumpling station at the back which is a favourite of ours. Head out to the Aquavit Terrace to enjoy al fresco dining next to the infinity pool.
There are two specialty restaurants available to guests, The Chef's Table and Manfredi's.
The Chef's Table has a menu which changes every two days and is a five course tasting menu with paired wines (either inclusive or you an upgrade to the premium package). The courses aren't to everyone's taste, so check out the menu before you book for this one, although they do cater to dietary requirements and can usually swap out one of the courses if you prefer.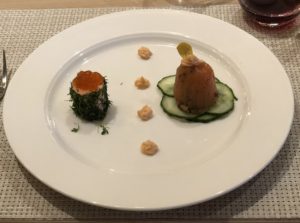 Manfredi's (named after Torstein Hagen's good friend Manfredi Lefebvre d'Ovidio, the Chairman of Silverseas Cruise line – not kidding!) is an Italian restaurant, serving a signature 72 hour marinated thick cut rib eye steak, the bistecca fiorentina which is not to be missed. All pastas are made on board and are delicious, as is the Nutella panna cotta which is not to be missed. Make sure you're hungry when you arrive as you will want to try everything, including the huge bread basket! I recommend you make a booking as this restaurant is a favourite with all guests and gets booked up fast.
Manfredi's and Chef's Table are open for evenings only.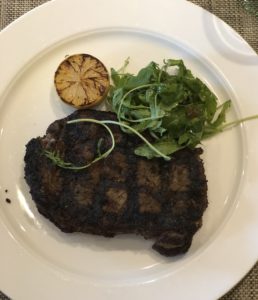 Pool Grill is located outside of the World Cafe next to the pool and serves burgers, hot dogs, steak sandwiches and seared tuna for lunch. There is a salad and fruit buffet for accompaniments too. Ship dependent, they will often do a specialty menu in the evenings, such as pasta stations, wrap stations, a destination menu, BBQ grill, Seafood Buffet etc, so it's definitely worth checking this out before heading into the World Cafe.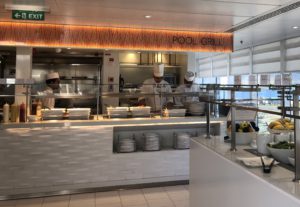 Room Service is available 24 hours and is complimentary. The menu is fairly standard, chicken, salmon, steak, pizza, pasta, hot dogs, burgers, salads, club sandwiches etc. The chili fries are delicious…!
Viking Bar If you are looking for pastries or muffins for breakfast, or light snack during the day – open sandwiches of prawns, egg, blue cheese, steak tartare etc, you should head to the Viking Bar. They will always have cookies available too, perfect for when you want a little something to go with your coffee or that afternoon cocktail.
Mamsen's is named after Torstein's mother and the menu is based on her personal recipes. For guests who are late risers they offer a light breakfast of waffles with Norwegian brown cheese (an acquired taste!) and fruit, plus continental style options. It is also open for late night snacks. You will find this outlet in the Explorer's Lounge at the front of the ship.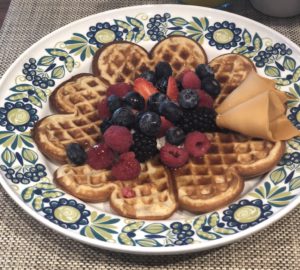 The Kitchen Table could be considered an 'excursion' more so than a restaurant. It's a fantastic experience for the guests as they help the Executive Chef to create a meal for them to all enjoy together. Priced at around $299pp and limited to a small class, it's not something that many people will try, but those who have all say it was their favourite part of their cruise!
Afternoon Tea in the Winter Garden is served at 4pm every day. Beautiful platters of sweet and savoury delights are served with warm scones and jam and a selection of teas. This is accompanied by classical music played by the ship's string instrumentalists.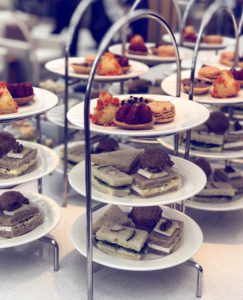 Heart-healthy options are available in all restaurants and dietary requirements are also well catered for, don't be afraid to ask any of the very friendly wait staff for help.
All soft drinks are complimentary on board, plus beer and house wine is included with your meals. If you wish to upgrade to a premium package for better quality wines (although their house is perfectly fine) and to have spirits and liquors included you can do so with any of the bar staff. What I love however is that this will not be pushed on to you ever! No up-selling is something they hold true to.
Entertainment
So, I might be a little biased with my opinion on the ship's entertainment program…! Everything to do with entertainment and enrichment falls under Beven (the Cruise Director) and he generally gets the highest scores across the fleet, so I guess I'm seeing the best (not a proud wife at all!).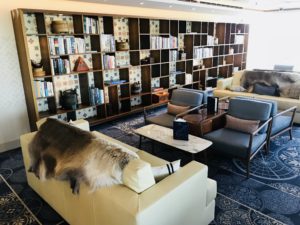 From an enrichment perspective, this includes the guest lecturers, historians and astronomers as mentioned previously. I'll be honest, I don't attend these as I'm usually busy with other things but they are well-received, obviously some better than others. TED talks are regularly shown in the cinemas and also available on the cabin TVs which I do enjoy and the ships boast the largest libraries at sea, there are literally walls of books everywhere (and plenty of comfy nooks and crannies to read them). Games are also available around the Living Room and above, a jigsaw puzzle is always on the go and there are electronic tables for guests to play chess, backgammon, scrabble and send postcards home.
Entertainment wise, there are 3 main production shows which are created by Viking's production company and installed with each new cast that joins. The cast will rehearse in London for a couple of weeks and then they'll have a handover with the current cast members before they hit the stage. Each ship currently has the ABBA Songbook and the Beatles Songbook plus one other which is different on each ship, it's Coast to Coast on Viking Sky at the moment (a US musical journey of favourite artists).
Beven has produced a Variety Performance as an additional show for the whole Entertainment Team to perform, a fabulous show featuring favourite musical theatre numbers, ending with a wonderful selection of Les Miserables songs which never fails to receive a standing ovation.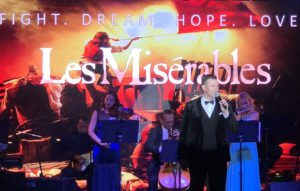 Every Cruise Director who works for Viking has to be able to perform a show (one of the main reasons Beven loves his job, still being able to sing alongside his other duties) and although the Assistant Cruise Director doesn't have to perform, most of them do, so on this ship we have both Beven and Brian doing great shows.
For a little more lighthearted entertainment, Beven has introduced The Liar's Club to this ship which is always a lot of fun (based on Balderdash, guests must guess which officer is telling the correct definition of a little-known word). Dancing Under the Stars (or Midnight Sun as on here) is basically a pool party enjoyed by guests and Movies Under The Stars are also popular (guests are provided with a set of Bose headphones to enhance the experience).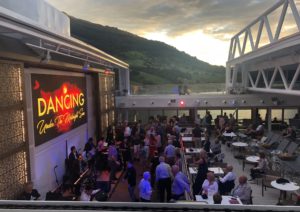 Torshavn is the late night bar on board and the Viking Band will play here every evening for guests to get up and have a boogie if they wish and around the ship guests can listen to the resident string duo, classical pianist and guitarist.
'Unexpected Moments' are always well-received by guests too, usually this is the cast singing one or two songs at an unadvertised time, just to 'surprise and delight' the guests.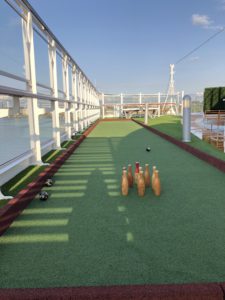 I guess sports falls under entertainment, and whilst this is certainly not in the realms of Royal Caribbean's theme park style activities, Viking does offer mini-golf, boules, croquet and shuffleboard on the sports deck.
Itineraries
With the heart of the operation being in their 'Homelands' (the Baltics) they are expanding across the rest of the world with each new ship. They now cover South America, Australasia, Alaska, the US and much more. I'll be blogging on the ports which we visit, so please do subscribe if you wish to get alerted to these. Otherwise, check out Vikings website for more details. www.vikingcruises.co.uk
Shore Excursions
As mentioned above, immersing guests into their destination is a key focus for Viking. They pride themselves on offering guests unique and insightful and excursions, which often includes visiting a local person's home to see how they live and enjoy their specialty food and drink.
There is one included excursion in every port for guests to enjoy. They usually consist of a 2-3 hour coach tour of the city and it's surrounding areas, or walking tours for smaller towns. The optional tours have a cost and will give a more in-depth look at the main attractions. They will get guests into museums before they officially open, get tickets to Swan Lake ballet in St Petersburg and offer scenic helicopter rides where possible. They understand their guests and what they want from their holiday and they don't hold back to deliver.
We are meant to be visiting Torshavn in the Faroe Islands tomorrow, but due to a storm we're not able to get into the port. Instead of just cancelling, they have found another port in Norway, Olden, never before been visited by a Viking ship, and created new excursions with 24 hours notice, just to give the guests a great experience, despite the change in itinerary.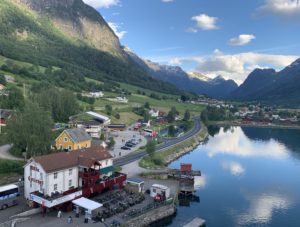 The Cruise Director and the Shore Excursions Manager present a Port Talk each day to give the guests general info on the port, how to get around, local delicacies to try, and also an overview of each of the excursions, advising length, how strenuous the activity is, and gives a chance for guests to ask any questions or upgrade their excursion if they wish.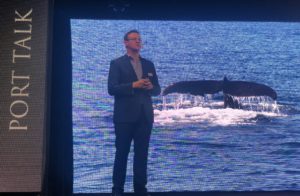 Accommodation
I only like to write about the things I have first-hand experience with, and as I've never stayed in a guest suite, I can't tell you too much! We have a great crew room, but that probably isn't what you want to hear about. So I'll direct you to the Viking website which can give you a run down on their cabin categories here.
The Spa & Gym
The Spa really is something quite spectacular on these ships, and to add to that, they're complimentary. Following the ancient Nordic tradition, guests are encouraged to use the cold plunge pools before entering the hot tubs, then into the snow grotto and back into a heated pool and continue with the hot-cold-hot routine to really energise and invigorate yourself. If you're not that brave, you can simply enjoy lazing on the heated ceramic beds and using the Jacuzzi. You will have use of quilted dressing gowns and slippers in this area too.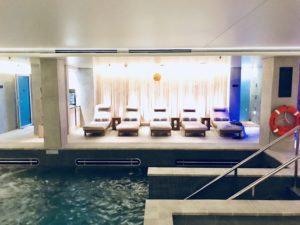 The gym is extremely well-equipped for a ship of this size. It's comprised of four interconnected rooms, the first containing resistance machines, ellipticals and bikes. The second has treadmills, the third has a cable machine and is a studio area for yoga and Pilates classes as well as having gym balls, rollers, kettle bells and TRX. The final area has free weights and benches.
There is a small charge for the classes (around US$10) but everything else is complimentary.
Boutiques
There are 3 main shops on the ships, one which sells mostly souvenir items, clothing and toiletry essentials plus chocolates, lollies etc. The other is the main jewelry boutique which has a guest jeweler on board with a specialised trunk show and another which offers perfumes, make up, small electronic items and high street brand jewelry such as Swarovski.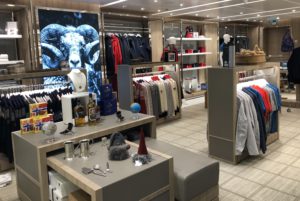 Bars
Whilst this is a 'thinking person's ship' not a 'drinking person's ship' you will still find plenty of places to get beverages. During the day, the Viking Bar in the Living Room is the most popular, along with the Explorer's Lounge. Both of these areas have comfy seating and attentive staff to look after you.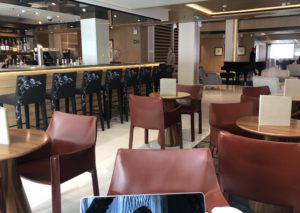 The Pool Bar is also popular, especially on a sea day and at lunchtime and the Aquavit Terrace through the back of the World Cafe is a favourite for al fresco diners and guests enjoying the infinity pool.
Less known but favoured by those who do discover it is the bar in The Restaurant and if you're heading to the Theatre for a show, you can grab a drink at the bar right outside (they will bring it to your seat).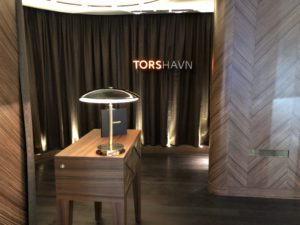 Finally, you have Torshavn which is busy in the evenings, usually after the second show has finished and the band move in for guests to dance away the night.
Pools
There are three pools on this ship. The main pool in the centre of deck 7, the infinity pool at the back of deck 7 and in the Spa. You won't be doing laps in any of them, but they are good for a refresh or to relax in.
Inclusions
Viking Ocean Cruises doesn't profess to be 'all-inclusive' but it is pretty much that. The following are all included in the price:
– Self-service laundry
– Beer and wines with meals, soft drinks, tea and coffee
– The Spa and Fitness Centre
– One included shore excursion per port
– Both specialty restaurants
– 24hr Room Service
– Wifi
Dress Code
Part of making guests feel at home on these ships is the relaxed dress code. Leave those formal dresses and tuxes at home, you won't need anything more than smart casual. Even ties and jackets are optional in the evenings, although slacks over jeans are recommended after 6pm everywhere other than the World Cafe which remains casual all day long. Swim wear is only permitted in the pool areas however.
What we love about Viking Ocean Cruises
As well as Beven loving his job, we are grateful that he is working for such a fantastic cruise line. The people are what make it so special, they really are all so lovely and friendly. Everyone understands the challenges of being away from families and loved ones for extended periods of time and they support each other through this.
We have a comfortable cabin (I'm a bit in love with our heated bathroom floor, especially on this contract in chilly climates!) and the rest of the ship is basically my home, with plenty of cozy places to tuck away and work. And who can complain at having food available 24/7 with no washing up after?!
It's a classy cruise line which attracts some really wonderful guests who have become friends. We have invites to stay with people all over the world! There aren't many jobs which offer you such a fabulous working environment and team camaraderie, and that really does make it pretty special.
Hopefully this has given you a good insight, but if there is anything else you'd like to know, please don't hesitate to ask me.
Thanks for reading!
Wendy A