Sea days. You either love them or hate them. People worried they may get sea sick will despise them and those who understand that cruising can be a little hectic with daily tours etc look forward to them. For a first time cruiser, you may not even know what to expect on a sea day and be concerned that you'll be bored. So, here's a run-down on all the activities available to guests when sailing with Viking Ocean Cruises which may help you decide how many sea days you wish to have in your itinerary…and maybe realise they're not to be hated!
Gym/Yoga Class/Walk the Deck
Start the day with a Stretch or Yoga class. These are often held in the gym around 8am by one of the qualified Spa staff. There is a nominal fee and you can sign up in advance, on a first come first served basis.
Alternatively, the gym is open from 6am til 9pm daily and is well-equipped with both free weights, cables, TRX and resistance machines.
If you're more of an outdoors person, you can walk around the entire ship on deck 2. For reference, 4 laps of the ship = 1 mile / 1.6km
Baggo/Corn Hole
Not something I'd ever heard of myself, but apparently its pretty big in the US! This is a fun game played guests vs officers in the Atrium. Each side has up to 4 bean bags each to throw at the board with a hole in it. You score points if you get on the board and more if you can get in the hole. The game will progress up the staircase to get more challenging…which it certainly is if you are having a slightly rough sea day…!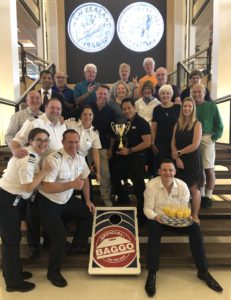 Lectures / TED Talks
Being a 'thinking person's cruise', the lecture program is a vital part of the entertainment on board Viking Ocean Cruises. Each ship will have a 'Viking Resident Historian' (VRH) assisted by 2 additional guest lecturers. The VRH follows a set program laid out by the Viking Head Office and the guest lecturers have their own specialties which they present. These are often historically related to the destinations the ship is visiting but can also be something like 'the difference between scotch and whiskey' or discussions on the UN and where its heading, or ecological presentations. The lectures are scheduled throughout the cruise, and are a popular part of the program. Whilst they are mostly held in the Star Theatre, the VRH will also hold 'Round Table Discussions' in Torshavn or one of the Cinemas which is more of an open forum for guests to get involved in discussions. The lectures are all recorded and can be viewed on the Television system (Round Table Discussions aren't recorded).
Viking Ocean Cruises also has a TED Talk program which is shown in the cinemas daily and can also be accessed on guest's suite Televisions.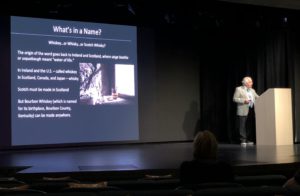 Future Cruise Presentation
If you are enjoying your cruise and thinking of booking another one, either ocean or river, the best time to do it is whilst you are on board. Your Future Cruise Consultant will hold a presentation to discuss the upcoming itineraries, new ships and all the benefits you will receive if you book with them. Generally speaking, this includes discounted deposits, on board credit to use on your current cruise, securing the suite you desire on your next cruise, transferable booking if you change your mind (across to any other ship, river or ocean) or even to cancel if you wish. Also, you can remain loyal to your own travel agent as the booking will be passed over them to manage for you when you get home. It's a win-win option!
Port Talk
Port talks are held daily, if the following day is a new port. These give information on each of the shore excursions, both included and optional (so you can change or upgrade if you wish) as well as giving you an overview of the port itself – if there is a shuttle or its walking distance, what the local currency is, local delicacies to try, things to be aware of (pick-pockets, or fake souvenirs) etc. They are usually between 30-50 minutes depending on the size of the port and how many excursions are being held (settle in if you're doing 3 days in St Petersburg…!). This is also your chance to ask any questions to the Shore Excursions Manager – although the Guest Relations team are also available 24/7 to assist you.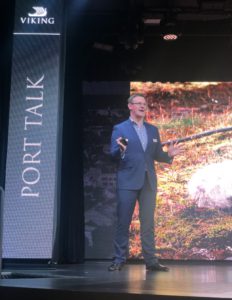 Cookery Demonstration / Cook-Off
Are you a bit of a foodie? Even if you're not, these are a fun way to fill your time at sea. The Cookery Demonstration is usually held by the Head Chef who will choose a dish to talk you through as he cooks it on stage. You will receive a recipe card to follow and take home and at the end of the demo you will be invited to try the finished result.
The Cook-Off gets much more competitive…a selection of senior Officers and Galley staff split into two teams, red pepper and green pepper, and will be given a random selection of ingredients to choose from. Each team must make a winning dish which the audience will sample and vote for their favourite creation. Expect some hilarity as the officers are usually ridiculously competitive and have been known to cheat a little in order to win the most votes!
---
Want to know more about Viking Ocean Cruises? Check out my previous post,
Viking Ocean Cruises – Our Second Home
---
Getting to Know Us / Cast Q&A
This is a fairly new addition to the Viking Ocean Cruises program, involving the four Viking Vocalists, the Assistant Cruise Director (if they are a performer) and is hosted by the Cruise Director. It will be held either in the Atrium or the Star Theatre, and is basically a way for the guests to get to know their Vocalists better, usually after they have done a couple of production shows. Each Vocalist will talk about themselves, their family, how they got their position and will sing a song which has deep meaning to them. Guests are able to ask them all questions, either through the show or at the end.
When this is held in the Star Theatre, guests will be welcomed to have a tour of backstage, including behind the high-tech screens and into the dressing room and wardrobe.
Officers Meet & Greet / Q&A
This comes in two formats, the Meet & Greet will involve the Officers gathering in the Atrium for about half an hour to meet with guests and have a chat and answer any questions.
The Q&A is held in the Star Theatre, usually involving the Captain, Chief Engineer, Hotel General Manager and is hosted by the Cruise Director. Guests will ask questions to each of the officers throughout the session and each of them will explain their role in full and how their teams work together behind the scenes. Want to know how so much bread is made each day, or how much fuel is used, or perhaps how the supplies are managed or how long it takes to become a Captain? This is the session to attend.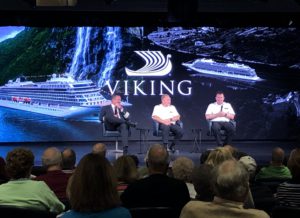 LivNordic Spa
I personally think the Viking Ocean Cruises spas are the best at sea. The fact that anyone can use them free of charge makes them even better.
They are designed in true Norwegian tradition, where they believe that to achieve optimum health is for the body to go through a series of 'hot/cold/hot' treatments (always end with hot). The options for this include a large heated Jacuzzi, a smaller hotter spa tub, heated ceramic sunbeds, a sauna, a steam room, a cold plunge pool, cold showers with full-body jets, cold water bucket shower, and a snow room. I'm not a big fan of the cold part, although I have gone into the snow room a couple of times (when dared to!). This really is such a beautiful relaxing area, although I prefer to use it on a port day when its much quieter.
Obviously, in addition to this spa area are the treatment rooms for guests wanting to pay for an extra level of pampering. There is a large menu of options for massages and the more traditional treatments as well as a hair salon next door too.
Go for a Swim
The main pool is located in the middle of deck 7. This is a relaxing area where most guests will spend some of their sea days, on one of the sun beds or in the Jacuzzi next to the pool. The other pool is the infinity pool located at the aft of the ship in the Aquavit Terrace, still on deck 7. This option probably isn't for the body-conscious however as its through the back of the World Cafe so expect it to be busy around meal-times with diners watching you!
Read a Book
If you read my post from last week, 30 Fun Facts About Cruising, you will know that the Viking Ocean Cruises libraries have 1,003 books available for guests to borrow. Curated by Heywood Hill, an independent London bookseller with a Royal Warrant, every book has been selected with the Viking guest in mind, to include art, history and destination-focused reading.
One of the things I love most about these ships is that there are so many comfortable places to curl up with a good book too. Choose the Living Room, the Explorers Lounge (both levels), the Winter Garden or anywhere around the deck…if not more privately in your suite or on your balcony.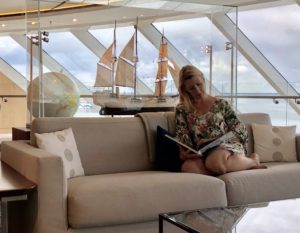 ---
Not sure what to expect on your first cruise? Check out my previous post First Time Cruise Checklist
---
Play a Game
There are plenty of options for this. On deck 2 you will find electronic tables to play solitaire, bridge or backgammon. Next to these are tables for checkers or scrabble. Around the corner you will find a communal jigsaw puzzles for guests to complete and there is also Marjong available. On World Cruises Viking will often bring on board a Bridge Tutor who will hold classes for any guests to participate.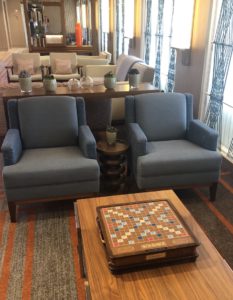 Trivia
Everyone loves a game of trivia! These will take place regularly in the Explorer's Lounge, but on sea days they may become 'Mega Trivia' and moved into the Theatre to include audio/visual questions. Be prepared to win…"absolutely nothing" but the bragger's rights make it worth it anyway!
Dance Class
This will depend on whether you have any strong/trained dancers in the Entertainment Team, but generally one of the Vocalists will hold a dance class during the cruise, often on a sea day. The most popular is generally Line Dancing although Latin American or Ballroom is also enjoyed.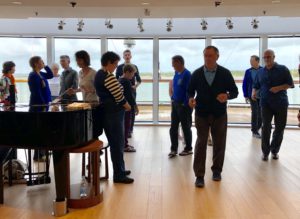 Craft Corner
This is an un-hosted get-together for guests who enjoy their crafts. If you are keen on embroidery, knitting, quilting etc, take this opportunity to gather with like-minded guests to enjoy some time in a designated room. You may even find a guest will host some tutorials in your chosen craft.
Munch Moments
Viking has exclusive rights to the works of Norwegian-born Edvard Munch (most famously known for 'The Scream'). His art can be seen around the ship and is also displayed on the large digital screen in the Atrium daily. A guide of the art works is placed on all tables for guests to enjoy, whilst listening to a classical pianist or duo, and probably sipping a nice cold beverage… A perfect pre-dinner experience.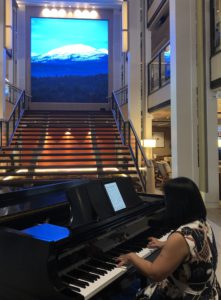 Specialty Restaurant
Why not use a sea day to enjoy a leisurely dinner in one of the specialty restaurants, either The Chef's Table or Manfredi's? You will need to make an advance booking as they fill quickly from the start of the cruise, but both are included in your cruise fare.
The Chef's Table is a 5 course set menu which changes every 2 days. Check it out before you book, some themes aren't for everyone, although the staff are extremely flexible with alternate options, particularly for dietary requirements.
Manfredi's is the most popular, a relaxed Italian restaurant, named after the CEO of Silverseas…a good friend of Viking owner, Tor Hagen (seriously!). Go easy on your day's food if you plan to come here for dinner, if you don't stuff yourself with the amazing bread basket, the delicious pastas, steak and delicious desserts will do it!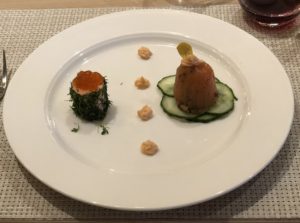 Afternoon Tea
If you have been doing full day tours on a daily basis, chances are you haven't experienced Afternoon Tea in the Wintergarden yet. Use the sea day to do this, although I recommend you get there early as most guests will have the same idea (if they're not doing a specialty restaurant!).
Served in one of my favourite rooms on the ship, you will receive a menu of teas to choose from before being served a colourful platter of sweet and savoury delicacies, and in addition, warm scones with cream and jam…yum! I can guarantee you'll wish you'd done this sooner!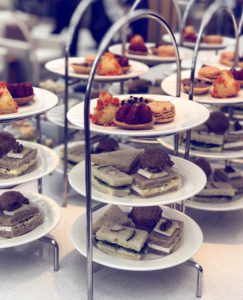 Mamsen's
Just inside the Explorer's Lounge on deck 7 is Mamsen's. Named after the owner's grandmother, here you will find snacks created from her personal recipes. Mamsen's is open for guests who prefer a later breakfast (its a sea day, enjoy a lie-in!), and the cinnamon waffles with jam, cream and berries are delicious. The brown cheese which is traditional in Norway is an acquired taste (I personally find it totally repulsive!) but these things need to be tried!
Mamsen's is also open in the afternoon for open-faced sandwiches and again for late-night snacks.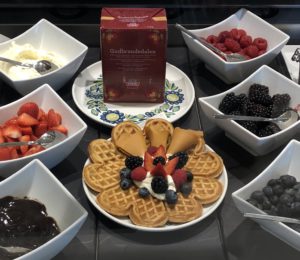 Production Performance or Guest Entertainer
When you are arranging your dinner plans, I definitely recommend that you take into consideration the timing of the evening performances. You will either have two scheduled, one pre-dinner at 6.30pm and one post-dinner at 9.15pm, or you may just have the 9.15pm one. If its just the one, you should get there early to grab a seat as they can often be standing-room only.
The Productions are currently The ABBA Songbook, the Beatles Songbook, Musicality (each ship has its own performance for this) and possibly a Variety Performance produced by your Cruise Director.
Your Cruise Director will also have their own performance, and most of the Assistant Cruise Directors will too.
In addition, Viking Ocean Cruises contracts Guest Entertainers to perform on the ships. These can include magicians, singers, pianists, Violinists (if you ever have the chance to see electric rock violinist Jane Cho you're in for a treat!) or perhaps even a comedian.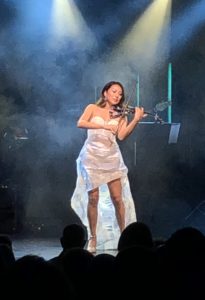 Boutiques/Trunk Show
If you haven't had the chance to browse through the boutiques, now's your time. You have the main boutique selling logo clothing and souvenirs, sunglasses, trinkets, liquors and some essential personal items. Across from here is the Juveler, the main jewellry shop selling upmarket and designer pieces. Downstairs, next to the Spa is the third boutique which sells cosmetics, perfumes, electrical goods and more high-street branded and local jewellry (Swarovski etc).
Viking also contracts a specialist retailer who brings what is called a 'trunk show'. This is a unique collection of items (could be opals, lacquer boxes, babushka dolls or something similar) and the host will hold a seminar to discuss in detail why these are so unique. You will probably get yourself a glass of bubbles if you attend their presentation too.
The boutique will also have sessions for guests to come along and learn about their cosmetics, or how to wear scarves or something similar which is fun for the ladies, and also usually comes with a glass of bubbles…!
If you are more into your Scotches, you may find a scotch tasting event scheduled for a nominal fee so guests can try before they buy.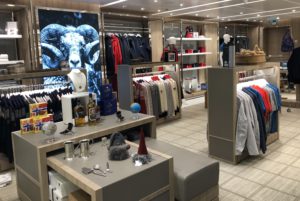 Planetarium – Viking Jupiter/Viking Orion
The Viking Ocean ships are mostly identical except for the two newest of the fleet, Viking Orion and Viking Jupiter which have a Planetarium in the upstairs section of the Explorer's Lounge. The planetarium shows three different videos which are all 3D and space related. As you enter the planetarium you will find large comfy recliner seats and you'll be given 3D glasses and a blanket…the projectors require a cold atmosphere to work correctly, so you will definitely be needing the blanket.
Session times will be advertised in the Viking Daily and guests can pick up tickets (free) from guest relations. Note that if you are late to a session, you will not be permitted entry as the doors need to be closed for the movies to project.
These ships will also have a Viking Resident Astrologist (VRA) on board to hold astrology and star-gazing sessions for guests.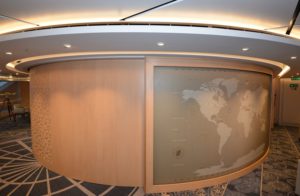 Viking Heritage Museum
Take some time to take a look at the Viking Museum, located on deck 2 between the Atrium and the Restaurant. Discover how Blue Tooth got its name, learn about the traditional Viking costumes and see replicas of the Lewis Chessman pieces and watch video stories from this iconic historical time.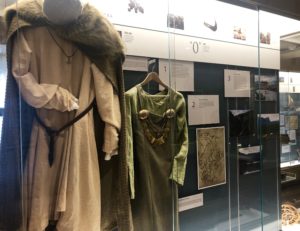 Sports Deck
If you're feeling active, head up to the Sports Deck and try your hand at a game of mini-golf, boules or perhaps some skittles. And if that all sounds too strenuous, relax back into one of the comfy sofas up there and enjoy the ocean views. Sports are obviously weather permitting.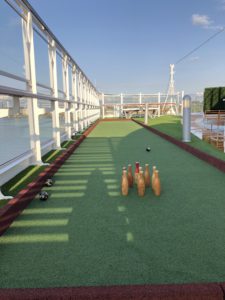 Relax in Your Stateroom/Suite
Of course, if you've had a busy cruise (or you know you're about to), you may just enjoy your sea day relaxing in your suite. Go ahead and order some room service, enjoy a long hot bath, soak up the scenery on your balcony or be entertained with the large selection of movies, live TV, TV series, destination videos, or watch a recording of a lecture or TED Talk you may have missed on your suite television. Sounds like a perfect day to me. Did I mention you can order pizza and ice-cream from room service…?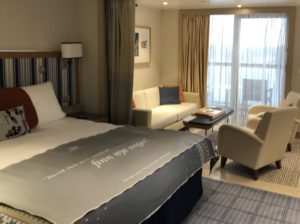 Wrap Up!
Hopefully that has given you a good overview of life onboard when its a sea day. You can forget any ideas of being bored, Viking may not be known particularly for its activities or entertainment, but you certainly won't be short of things to keep you amused and the quality of performances may well surprise you.
If you have cruised with Viking Ocean Cruises before, please let me know what your favourite thing to do on a sea day is? Do you love them or hate them?
Thanks for reading…see you next week!
Wendy A