I get asked at least once a day on Instagram how someone is able to apply for a cruise ship job. So, I figured instead of pointing to our dear friend Google, I'd help a job seeker out and give more detailed info here which can speed up the process. Yep, you're welcome.
Firstly, I'll make a disclaimer that I do not currently work for any cruise companies (I have previously) and information is likely to change, so please don't hold me responsible if there are some errors!
Ok, so let's talk about the various cruise ship jobs and everything you need to know before you start filling out those application forms.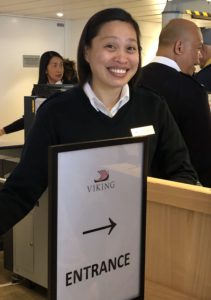 International Opportunities
Most cruise lines are open to receiving applications from anywhere around the world, you will likely be asked to do a Skype interview, role dependent. There are also some third party recruiters who may be in your country and work for the cruise lines to conduct local interviews on their behalf – ensure these are approved agencies as sadly there are a lot of scammers out there. Never part with money in exchange for assistance in getting a position.
For the Entertainment teams, they often go through an agency and auditions will be held in major cities such as LA and London – applicants are generally expected to get themselves to these auditions.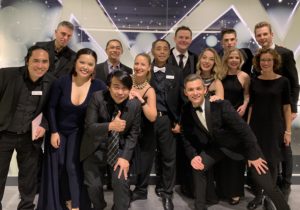 Consider Before Applying
Before applying for a cruise ship job, you may also want to bear in mind that although it looks very glamorous, the jobs are hard work! Some contracts can be up to 8-10 months long and usually you don't get a day off. You may have to do duties which you wouldn't expect to be part of your position (eg assisting with crew drill, participating in guest games, tour dispatch), so ensure you check the job descriptions closely. You will also be away from your friends and family for a long time – if you are someone who gets homesick, this probably isn't the job for you. Cruise staff need to be bubbly and friendly all the time…is that your personality or do you have grumpy days (be honest now!).
Role dependent, you may also have to share a cabin with someone you've never met – are you ok with this? You will be expected to look after yourself, do your own laundry, keep your cabin tidy (there will be inspections), and clear away your plates etc in the crew mess – your mum or flatmate won't be around to clear up after you!
IPM (In Port Manning) is the bane of most crew member's lives…every 4-5 days you will not be allowed to leave the vessel. This is due to the ship being required to have x crew members on board at all times for safety reasons. However, if you are desperate to go into a port on your IPM day, you can usually find someone to swap with.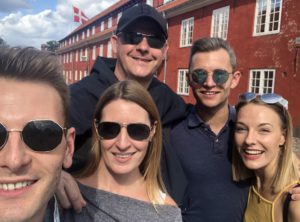 Why Working for a Cruise Line can be Awesome
Of course, it's not all bad. You will meet some amazing people who become your family. You will travel the world and experience new places, try different foods and do things you never imagined. You will gain a greater understanding and respect for other people and cultures and probably learn some new skills along the way. Employers generally recognise the hard work and dedication it takes to work on a ship so it will look good on your resume too.
For some higher level positions, you may be able to have a family member travel with you for a specified amount of time and if you're visiting your home country, having day guests is rarely a problem.
Plus, you will make great money whilst living and travelling for free – isn't that the dream?
Training & Experience
Whilst most positions require previous experience, this doesn't have to be at sea. Many of the Hotel Operations staff come from hotel backgrounds, or something similar. Generally they key staff requiring specific marine qualifications are the Captain, his Navigation staff and the Engineers.
Cruise lines provide fantastic training for crew members. This is ongoing and they are generally keen to promote internally so career progression opportunities can be massive.
Every crew member has to complete an STCW (Standards of Training, Certification and Watchkeeping for Seafarers) course before they can commence any work on board a ship. This is an intense 5-day course, training crew on how to deal with emergency situations, such as fire-fighting and sea rescue. You may be required to pay for this yourself, at approximately GBP590 / US$875/AU$2,250.
Departments
There are different departments you can apply to, generally broken down as Hotel Operations, Marine and Entertainment.
Hotel Operations includes positions such as house keeping, wait staff, bar staff, custodial, guest relations, shore excursions, spa, and retail.
Marine is everything to do with the Captain, staff captain, medical, engine team, navigation team, deck staff etc.
Entertainment includes singers, dancers, musicians, cruise directors, DJs, lecturers, youth and activity staff.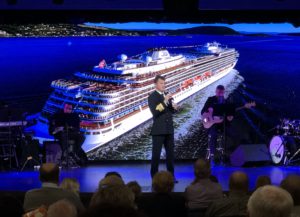 Not all Cruise lines are the Same
Consider which cruise line you wish you work for, they are all different. Are you looking for a larger ship which will be busier, more guests and more crew. Whilst this can mean more opportunities, it can also make you 'just a number'. If you prefer to be part of a smaller crew where what you do is more noticeable, you should look at smaller cruise lines. Also consider if you like being around families and lots of children, or would you prefer a cruise which caters for an older demographic? Do your research, you can find all this information on the cruise websites.
Representation as a Performer
If you're looking to be a performer, there are several third party companies who will represent you as your agent to multiple cruise lines. Note that as they will do some of the leg work in finding you the most suitable position amongst the many possible cruise lines, they will likely take a percentage of your earnings in return.
The following are some of the most acknowledged:
Blackburn International (UK-based, but also has AU representation)
www.blackburninternational.com
M One Studios (US-based)
Oceanbound Entertainment (Canada-based)
Premier Entertainment (Ireland-based)
www.premierentertainmentireland.com
Contacts for Major Cruise Lines
Royal Caribbean
The global recruitment site (US-based) listing all on board positions can be found here. This will also tell you if there is a local recruiting company in your own country to apply through.
For Entertainment, Sports, Production, Technical and Youth positions, you can find audition information and application details here.
Princess Cruises
For all available ship board positions and local recruitment offices, click here.
Cunard
For vacancies and local hiring partners for Cunard, click here.
Holland America Line (HAL)
For details on vacancies both shore side, on board and entertainment, plus approved local hiring partners, click here.
Norwegian Cruise Line (NCL)
Search on board positions and create an account to easily apply for roles as they become available here.
Carnival Cruise Line
Find available roles here.
P&O UK
Find available roles and hiring partners here.
P&O Australia
Find land and ship board positions here.
Celebrity Cruises
Find information on available roles and hiring partners here.
Viking Cruises
Search Ocean, River and office positions with Viking here.
Oceania
Find available positions with Oceania here.
Regent Seven Seas
Find ship board and third party recruiters for Regent here.
Scenic
Find all available positions for Scenic here.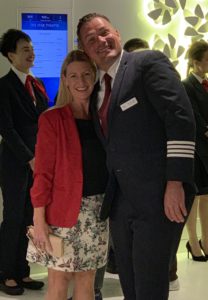 This has hopefully given you a good insight to applying for a cruise ship job. Most information can be found on each cruise line's website, so take a look around each of them. If you have any generic questions I may be able to assist with regard to life on board, please don't hesitate to ask, but unfortunately I am not able to help with specific job applications.
Thanks for reading, let me know any feedback you have, and good luck with your career at sea!
Wendy A