When I tell people I'm the wife of a Cruise Director and I spend about 8 months of the year on a luxury cruise ship travelling with him, the first question I get asked is 'don't you get bored?'. So, I thought I'd write a short blog on how I spend my days, because, well, I wish I had time to be bored!
Firstly, no day is ever the same. That's the beauty of cruising right, another day, another port, it's one of the things I love the most about our traveller lifestyle. Beven gets up around 7am to head into the office, and I'll get up as soon as he's left the cabin, (after writing in my gratitude and goals journal). By the way, if you want to read my post on what Beven's days look like, you can do so on my other website www.aandaworld.com 
On a port day, I'll head straight to the gym (not on a sea day as it's too busy and guests obviously take priority). The gyms on Viking Ocean Cruises are all extremely well-equipped, with hi-tech brand new machines, plus free weights, cables and TRX. Impressive for a small ship. Whilst I'm not quite the gym-junkie that I used to be, exercise is important to me, mostly due to the amazing food on board!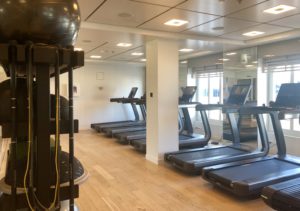 Which leads to another common question…how to you manage to not stack on weight if we're on a ship for so long! Well, yes, this is very easy to do… aside from the gym, Beven and I try to stick to an 18-hour fasting diet, so we don't eat breakfast (which kills me a little, as it's my favourite meal of the day and the choices on board are incredible, especially the waffles!). We will have an early lunch at 12pm in the buffet or pool grill (I love the seared tuna they do there) and an early dinner around 6pm and that's it. Well, that's the theory anyway… I can't say we are that strict with it…but we try!
Anyway, I digress…
After lunch, we will often head ashore to discover whichever port we are at. We doing mostly Baltic itineraries at the moment, which we absolutely love. Although, as I'm writing this we are actually in Iceland, which is a first for us, so we're enjoying exploring a new country. For the rest of the contract we are repeating ports we visited on Viking Sun last year. Its really nice to go back to our favourite places. Some we will go to for lunch or an afternoon snack of the local delicacy (hot chocolate in Boker og Borg in Stavanger, pasta at Paganini Ristorante in Stockholm, Curry wurst hot dogs in Warnemunde) and some just for a stroll through the beautiful cobblestone streets. It all helps to get our rings closed on our Apple iwatches!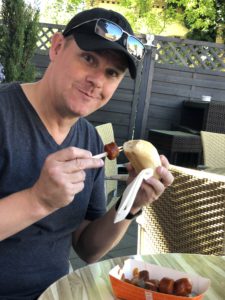 Depending on the port, the weather and Beven's schedule, we will either stay out for 2-3 hours, or more often, we will come back after about an hour so that Beven can have rest time before starting back at work. He will generally present Port Talk at either 4pm if it's a production show night (the cast do two shows, and they need the theatre for rehearsal beforehand, so his Port Talk needs to be earlier) or for a single show night a 5.15pm Port Talk is scheduled. I will generally attend these for new ports, and on the ones I've visited many times, I'm a good wife and just bring Beven coffee backstage when the Shore Excursions manager is talking!
As I mentioned before, around 6pm we try to do dinner, usually in the World Cafe, which always has a fantastic selection. The hardest part is avoiding the 'bad' foods (and pizza!) but there is a full seafood and sushi buffet and they will grill chicken, salmon and steak for you and always have steamed vegetables on offer.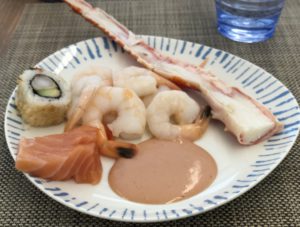 Beven works with a great team, so another thing I love is that often his Assistant Cruise Director or the cast will join us to eat, or even head ashore. When you work so closely for such a long period of time, the crew literally become your family and are part of every day life, work and play.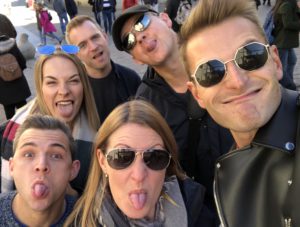 Evenings are a little more routine I guess, in that I will go to any show that is on. The casts are amazing and I absolutely love the performances they do. At the moment these are ABBA, Beatles, Coast to Coast (American artists) and the Variety Performance which Beven has produced on board and installed with the whole team. Other shows include the Liar's Club (based on Balderdash), Guest Entertainers and Dancing Under the Stars.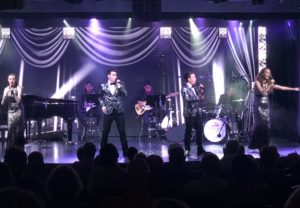 On a special occasion, we will go to Torshavn after with the cast/ACD for a drink, and to socialise with guests and support the band. The guests love seeing the cast jump up on stage and sing with the band spontaneously!
The gaps between these are when I work on my websites and other online projects, usually several hours a day. I'm also trying to learn a language and I always have a personal development ibook on the go. I set goals with other bloggers to motivate each other, so the pressure is always on!
I can also do Shore Excursions as a tour guide if I want, which is great. I've managed to experience some very cool things such as feeding reindeer in Helsinki, watcing the Ballet (Swan Lake) at the Royal Theatre in St Petersburg and meeting real Shetland ponies in the Shetland Islands.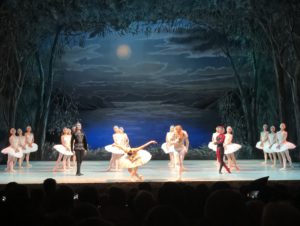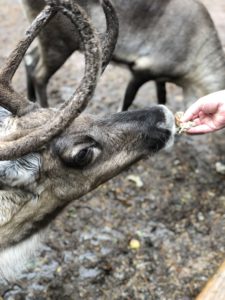 On a sea day, I tend to spend more time in our cabin as the ship is busy with guests. Well, aside from watching 'Baggo' which is a beanbag toss tournament between the officers and guests held in the Atrium…which is perfect for me to sit with my laptop and a cup of tea! I get most of my blogging done on these days and can prepare my content for the rest of the week. We often eat in the Officer's Mess on these days too, as the World Cafe gets busy with all guests on board. Sea days generally have productions in the evening, so my usual routine applies.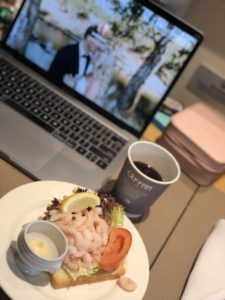 I also manage our Penang condo in regards to Air BnB bookings and Home Exchanges, and as I travel as a guest on the ships, I am responsible for my own flights and visas…which is my next challenge for our World Cruise next year which will stop at China and India…not the easiest places to get visas for (feel free to give me any tips!).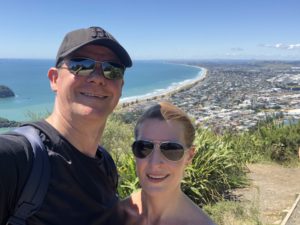 So, at the end of each day I'm more likely to wish I'd had more hours rather than say I was ever bored! It's an interesting life for sure, and its not for everyone. We miss our families and some home comforts but we are so grateful to be seeing the world whilst making a living.
Feel free to ask me any questions about our days on board, I'm always more than happy to share!
Thanks for reading 🙂
Wendy A